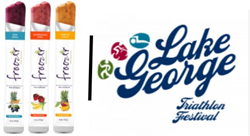 "Froozer is the perfect product to help athletes hydrate before and after an event in order to achieve superior physical performance" --Froozer® President, Rich Naha.
Denver, CO (PRWEB) September 02, 2016
Froozer® CEO Des Hague announces Denver-based Froozer® to be featured at Lake George Triathlon Festival in a 2-day multi-race event. Froozer®, the official healthy fruit and veggie snack of US Speedskating, is a frozen snack bar brand made exclusively from whole fruits and veggies.
"Froozer is the perfect nutrition before, during and after a race and the combination of being a source of all natural yet delicious calories, plus the easy accessibility of the tear away package makes Froozer a fantastic snack 'on-the-go' for the sport of triathlon," said Race Director Paul Bricoccoli. "As a Froozer fan from its inception," Bricoccoli went on to say, "it is a fantastic feeling to see it being used to maximize the efforts of triathletes!"
The 2-day multi-race event, put on by Adirondack Race Management, includes the 11th annual Lake George Triathlon on Saturday, which is an Olympic distance triathlon (1500 meter swim, 40 kilometer bike, and 10k run), followed by the annual kid's race. Sunday is the Big George which is a half iron-man distance (1.2 mile swim, 56 mile bike, and 13 mile run). On averaged, around 1200 athletes compete annually and last year, over 30 athletes competed both days in what's referred to as 'King George'. This year promises to have the highest participation yet. For more information, click here.
"Froozer is the perfect product to help athletes hydrate before and after the event in order to achieve superior physical performance," said Froozer President, Rich Naha.
"Froozer is a brand committed to doing good for the body, environment and communities we serve," stated Hague before continuing, "we are delighted to participate in this fun weekend and look forward to making a healthy on-the-go snack available at all such events across the country."
About Froozer® - "simple ingredients. real nutrition.®"
Froozer® products, a rapidly growing frozen snack innovator of 100% freshly harvested fruits and veggies, picked at the peak of their ripeness, flash-frozen whole and blended for optimal taste, nutrition and digestion. Natural fruits and veggies in all their glory, nothing added or subtracted, not even a drop of water. Available in three delicious flavors - STRAWBANANA BLISS, TROPICAL SUNSET and BLUE ALOHA - in 6-pack boxes. Look for Froozer® in your local grocery store freezer at select fine retail locations in the Denver Area, including Whole Foods and Alfalfa's, and various select retailers in Arizona, California, Connecticut, New Jersey, Oregon, Washington State, Rhode Island and Alaska, or place your order for a 48-count box at http://www.Froozer.com or http://www.Amazon.com to have your Froozer® delivered directly to your home or office.
For more information: http://froozer.com/
Contact: Renate Siekmann, VP Marketing, Corporate Strategy and Communications, Froozer®
Phone: 215-539-9481, Rsiekmann(at)froozer(dot)com
Connect with Froozer® on Facebook or Twitter