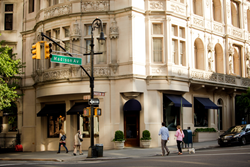 New York, NY (PRWEB) July 20, 2016
Between January 1 and June 30, 2016, the following boutiques and galleries have opened on Madison Avenue:
Aquazzura (shoes): 939 Madison Avenue
Aurelie Bidermann (jewelry): 957 Madison Avenue
De Beers Diamond Jewellers: 777 Madison Avenue
IRO (fashion & accessories): 1013 Madison Avenue
Isabel Marant (fashion & accessories): 23 East 67 Street
LUKURË (shoes): 1046 Madison Avenue
Morgenthal Frederics Opticians (eyewear): 1155 Madison Avenue
Moynat (leather goods): 937 Madison Avenue
Opera Gallery: 791 Madison Avenue
Rag & Bone (fashion & accessories): 11 East 68 Street
S.J. Shrubsole (antique silver & jewelry): 28 East 81 Street
Saint James (fashion & accessories): 41 East 78 Street
Smythson of Bond Street (stationer & leather goods): 667 Madison Avenue
Sonia Rykiel (fashion & accessories): 816 Madison Avenue
Sugarfina (gourmet candy): 1100 Madison Avenue
Sweaty Betty (athletic fashion & accessories): 1153 Madison Avenue
The Row (fashion & accessories): 17 East 71 Street
Veronica Beard (fashion & accessories): 988 Madison Avenue
"The first half of 2016 was a period of sustained investment on Madison Avenue," said Matthew Bauer, President of the Madison Avenue Business Improvement District (BID). "In addition to our roster of new retailers, we are also pleased about the major expansions by existing Madison Avenue businesses during this period, including Christian Louboutin (965 Madison Avenue), Di Donna Gallery (744 Madison Avenue), Giuseppe Zanotti (806 Madison Avenue), and Jimmy Choo (699 Madison Avenue). The March 2016, inauguration of the Met Breuer museum at 945 Madison Avenue was an important moment in the City's cultural history, and shall create countless memorable experiences for the New Yorkers and travelers enjoying the museum's exhibitions and public programming."
ABOUT MADISON AVENUE
Madison Avenue, on the Upper East Side of Manhattan, is North America's premier luxury district. Featuring some of the most sought-after real estate in the world, Madison Avenue features the flagship boutiques of the finest European and American designers; celebrated restaurants; spas and salons for exclusive pampering; five internationally renowned hotels, over one hundred galleries, and the recently-opened Met Breuer museum. Madison Avenue exhibits timeless elegance with a contemporary flavor that is distinctively New York.