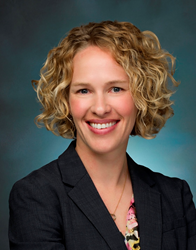 PHOENIX, Ariz. (PRWEB) July 21, 2016
Marla Hudgens, an attorney in the Regulatory and Government practice group at Lewis Roca Rothgerber Christie LLP, has been selected for membership in the Appointments Committee for the State Bar of Arizona.
Hudgens will begin a three-year term effective immediately. The committee's mission is to recommend to the State Bar board of governors the appointment of members to fill openings on statewide boards, committees and commissions.
Hudgens practices in both Arizona and Nevada, and has extensive experience handling complex civil and commercial litigation cases, administrative law and regulatory matters, and navigating both categories of cases through appeal.
In addition to trying cases before state and federal courts, she has represented clients in contested administrative matters before various governmental agencies including the departments of taxation, the water resources, gaming commissions, utility commissions and various other state and local boards.
The State Bar of Arizona is a non-profit organization that regulates approximately 18,250 active attorneys and provides education and development programs for the legal profession and the public.
About Lewis Roca Rothgerber Christie LLP
Lewis Roca Rothgerber Christie LLP is an Am Law 200 commercial law firm for handling complex matters in litigation, intellectual property, business transactions, gaming, government relations and other practice areas. Lewis Roca Rothgerber Christie offices are located in Albuquerque, Colorado Springs, Denver, Las Vegas, Los Angeles, Irvine, Phoenix, Reno, Silicon Valley and Tucson.