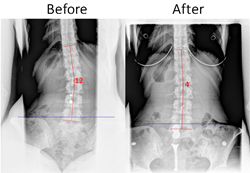 Lakeland, Florida (PRWEB) July 21, 2016
The Scoliosis Treatment Clinic has been treating patients suffering with scoliosis for many years. Working with local patients, this new accelerated program is attracting patients in from as far as California. Scoliosis patients around the world are looking for an effective treatment alternative to the current treatment approaches of spinal bracing and spinal fusion surgery.
The scoliosis treatment programs we offer, focus on the reduction and stabilization of scoliotic curvatures; however, it also focuses on hope, opportunity, and empowerment of the patient. Scoliosis is a disease that affects the patient physically, emotionally, and mentally, as well as placing enormous emotional strain on the family as a whole.
Dr. Barker, the lead doctor at the clinic says "We recognize that the scoliosis patient is more than just a crooked spine on a set of x-rays. Each patient is a person with a life and a family that has supported them on their search for help. The disease of scoliosis has a way of emotionally and/or physically victimizing each patient. This program can restore lost hope, strength, and spirit."
This new Accelerated Scoliosis Program is designed for people who live a distance from the clinic. It consists of a 1-week treatment plan for spinal curvatures 25 degrees or less, and a 2 week plan for moderate to severe curves. Accelerated care treatment for scoliosis generally provides great results in the least amount of time. It is characterized by 5 to 10 days of treatment (not including weekend's) with each day's treatment time lasting anywhere from 4 to 6 hours a day.
The program uses cutting edge scoliosis treatment therapies, avoiding traditional bracing options. The program consists of a combination of warm up exercises, adjustments, body weighting and vibrational therapy performed in a specific order. After patients have spent their week or two with Dr. Barker, they return home where they continue to do specific prescribed home care exercises. Patients are then monitored to ensure that the spinal reduction has held.
To see other results and learn more about our scoliosis programs, go to http://www.scoliosistreatmentclinic.com