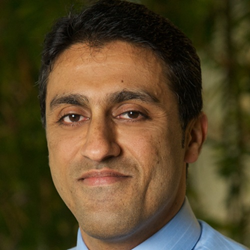 Yorba Linda, CA (PRWEB) July 20, 2016
The guiding principle in molecular biology is that DNA codes for RNA (transcription), which in turn codes for proteins (translation). Recent studies, though, show that just 1.5 percent of the three billion base pairs of DNA comprising the human genome generate the approximately 20,000 protein-coding genes—however, some 90 percent of the genome is transcribed into non-coding RNA (ncRNA) that does not produce a protein product.
Our understanding of biology has been manifestly transformed by the rapid characterization of numerous ncRNAs. The discovery of long ncRNAs (lncRNAs, which are longer than 200 nucleotides) as mediators of many cellular processes and various human pathophysiologic processes—including cancer—has established their role as critical biological entities. Indeed, some lncRNAs have been linked to oncogenesis. Examples include HOTAIR in breast and colon cancer, and SChLAP1, PCAT-1, and ANRIL in prostate cancer. SChLAP1 in situ hybridization (RNA-ISH) has recently been proven as a novel tissue-based biomarker assay for outcome prognostication after radical prostatectomy, and carries abundant clinical promise to help direct risk stratification for patients with prostate cancer.
The RNA-ISH assay is evaluated using a light microscope, which allows detection of lncRNA of interest and also provides insight into the localization of the lncRNA. Overall, a myriad of lncRNAs are associated with carcinogenesis, and RNA-ISH provides a practical tool for clinical application of lncRNA markers of interest in situ.
Advanced Cell Diagnostics is sponsoring a new, free educational webinar, "RNA-ISH for Long non-coding RNAs - new game changers in pathology," which will discuss the clinical potential and utility of lncRNAs, and the utility of RNA-ISH as a clinical translational tool. Continuing education credits will be offered through the PACE system.
The speaker is Rohit Mehra, MD, an assistant professor in the Department of Pathology at the University of Michigan, and a faculty member at the Michigan Center for Translational Pathology. Working with colleagues at the Center, Dr. Mehra played an important role in the discovery of recurrent fusion of TMPRSS2 and ETS transcription factor genes, now recognized as an important driver mutation in prostate carcinomas. In addition to routine clinical and diagnostic responsibilities, Dr. Mehra serves as MLabs' Genitourinary (GU) Service Line Director, and is also co-director of the University of Michigan Rapid Autopsy Discovery Program. To facilitate clinical translation of emerging molecular advances in GU malignancies, he has helped launch novel, clinically significant molecular oncology results into assays for diagnostic, prognostic, and/or therapeutic use. His complete bio is found on the LabRoots website.
The free webinar, hosted by LabRoots, will be presented on August 11, 2016, at 11 am PT/2 pm ET/7 pm GMT.
For full details about the event, obtaining continuing education credits, and free registration, click here.
About Advanced Cell Diagnostics:
Advanced Cell Diagnostics, Inc. is a world leader in RNA biomarker analysis for precision medicine, providing the most advanced RNA analysis solutions for cell- and tissue-based diagnostics in molecular pathology. Its proprietary award-winning RNAscope® technology is capable of detecting and quantifying RNA biomarkers with single-molecule sensitivity and single-cell resolution in routine clinical specimens. The company builds strategic alliances with its customers and partners to develop companion diagnostic tests for existing and emerging therapeutics, and pursues internal programs to develop and commercialize proprietary cancer diagnostic tests.
About LabRoots:
LabRoots is the leading scientific social networking website and producer of educational virtual events and webinars. Contributing to the advancement of science through content sharing capabilities, LabRoots is a powerful advocate in amplifying global networks and communities. Founded in 2008, LabRoots emphasizes digital innovation in scientific collaboration and learning, and is a primary source for current scientific news, webinars, virtual conferences, and more. LabRoots has grown into the world's largest series of virtual events within the Life Sciences and Clinical Diagnostics community.