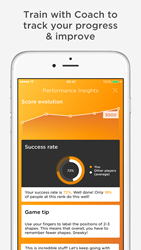 Peak's personal trainer for the brain, Coach, is a first but important step in providing users with mental games and activities that learn from their performance to give them the most effective workouts and to keep them going."
London, UK (PRWEB) July 21, 2016
Peak, the London, UK-based cognitive training platform with over 15 million global users in more than 180 countries, is launching Coach, its adaptive motivation engine that learns from a user's performance to serve up tailored workouts to better train your brain.
Developed by neuroscientists and game experts, Peak consists of 40 unique games to challenge core cognitive skills such as mental agility, focus, problem solving, emotion control, and memory.
Coach acts like a personal trainer for the brain. It analyses the cognitive performance of a user serves up tailored workouts that make the most out of each training session. Users can choose from Coach's best recommendations to push skills to the max. Or, play contextual workouts like Weakest Link to challenge their least polished skills.
Coach tracks users' progress using in-depth insights to keep them going when they need it most. Users can check their progress against others in their age group and their profession. They can track their progress over the entire time they've been playing.
Itamar Lesuisse, CEO and co-founder of Peak said, "We're thrilled to be launching our adaptive motivation engine to help our users get the most out of their cognitive training. Coach is a first but important step in providing users with mental games and activities that learn from their performance to give them the most effective workouts and to keep them going."
PEAK FEATURES:

Free games that challenge Memory, Attention, Problem Solving, Mental Agility, Language, Coordination, Creativity and Emotion Control.
Users learn which categories they excel in, and can compete with friends by comparing their brainmap and game performance.
Get access to Peak Advanced Training Plans: intensive programs that train a specific skill, including the new Wizard memory game developed with Cambridge University.
Available for Apple Watch with 3 games that assess memory and attention.
Peak is available for free. Players can upgrade to Peak Pro, the paid version, for even more tailored workouts and detailed performance data. Peak is available for iPhone and iPad and can be downloaded from the App Store.
ABOUT PEAK
Peak is a cognitive training platform that offers fun and challenging games designed with neuroscientists to test and track the cognitive performance of its users. Launched in 2014, Peak was named one of the "Best Apps of 2014" in 25 countries by Apple, and a Google Play Best App of 2015. It won Best Education Startup at the 2016 Europas.
In addition to creating games, Peak partners with leading scientists around the world to bring their globally recognised brain training solutions to the app's millions of users. These advanced games focus on a specific cognitive performance skill -- such as attention span, decision-making, working memory and creative thinking. Currently, Peak has partnerships with the University of Cambridge, C8 Sciences, IntelliGym and Brainways.
Peak's science advisory board includes Dr. Bruce Wexler, co-founder of cognitive training software, C8 Sciences, and Professor Emeritus and Senior Research Scientist in Psychiatry at Yale University; Dr. Barbara Sahakian, Professor of Clinical Neuropsychology at the University of Cambridge's Department of Psychiatry and MRC/Wellcome Trust Behavioural and Clinical Neuroscience Institute; and Dr. Vincent Walsh, Professor of Human Brain Research at UCL's Institute of Cognitive Neuroscience.
The company was founded in 2013 by a team of experienced tech and gaming entrepreneurs, including CEO Itamar Lesuisse, a former BCG management consultant who created web services for Amazon and Visa and successfully sold his first startup, in 2012; CTO Gerald Goldstein, a PHD in nuclear physics; CPO Xavier Louis, formerly of Playfish and EA, and COO Sagi Shorrer, formerly part of Google's senior management team in their mobile business development.
Peak is backed by $10 million in venture capital funding. Investors include Supercell's Clash of Clans' backers London Venture Partners, Initial Capital, former Supercell chairman at Lifeline Ventures, Creandum, DN Capital, and Qualcomm Ventures.