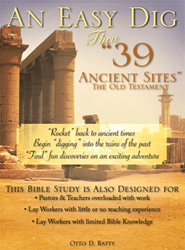 By 'Digging' into this book, readers will find fun discoveries, such as wrestling was first the developed sport in history.
HESPERIA, CA (PRWEB) July 22, 2016
Within the pages of Otto D. Batty's new book, An Easy Dig Thru "39 Ancient Sites" - The Old Testament, ($23.99, paperback, 9781602665972) readers will take a fun, exciting adventure to discover the best introduction to the Old Testament. This is a phenomenal study that will have readers saying, "I didn't know that!" The author describes his course as "rocketing back to ancient times by digging into the ruins of the past." He created an easy to understand format sure to create curiosity to read where the reader has never read before. They will find wonderful "gems of discovery" they never knew existed, "buried" in easy to find places. The course has a guide focusing in the Chapters where "It is Easy to Read" – and for effective retentiveness, eliminates the rest. The book has interesting brief points of references of what was going on in the Secular world at the same time things where happening in the Biblical world; for each of the 39 books. Every book has statements about: the Author, the Book's Uniqueness, a Reference to Jesus Christ, notable ancestor of Jesus, and other books of the Bible that fits the timeframe.
This book serves as an Instructor's Manual for use with a Student Workbook where students can follow along. This study is ideal for Pastors, teachers and lay workers, with little or no teaching experience and/or limited Bible knowledge. It is also perfect for anyone who finds reading the Old Testament difficult to read or understand. Bible Study students love this format because the study requires NO Bible Knowledge … NO Retention Skills … and NO Homework. When the course is completed - students will have a great Bible resource to keep forever.
"By 'Digging' into this book, readers will find fun discoveries, such as wrestling was first the developed sport in history," states the author. "They will have enhanced curiosity, such as which Bible author wrote first, Moses or Job. They will be amazed at some of the obvious; such as, Ruth and Esther are the only two books in the Bible bearing a woman's name. They will learn a good "stimulating guide" makes all the difference in the world and simplifies the 'digging into the ruins of the past' – regarding the well worn – Biblical site."
Otto D. Batty received most of his education from parochial schools. He received his A.A. degree from Columbia Basin College in Pasco, Washington, and B.A. degree in Education from Pacific Lutheran University in Tacoma, Washington. Otto majored in Social Studies with a strong emphasis in History. In 1961 while in Wyoming, Otto developed a great love for the Scripture. Over the years, he read 24 different translations and paraphrases of the Bible. He even read the Bible backwards from Revelation to Genesis. When asked why, he simply replied, "Just for fun." However, he wouldn't do it again or recommend it, saying, "It was chronologically distracting." Otto has taught many Sunday school classes to both teenagers and adults. This work emerged out of those life experiences. The more Otto read the scripture the more he became excited about what he "discovered." It was quite a surprise to him to learn so many believers had never read the whole Bible through once. Filled with a hunger to encourage others to read and find the "gems" he found in the Scripture, in 1985 he wrote and taught this Bible Study with a twist. The emphasis is on "discovering the gems," not theology or doctrine. It is fast paced, fun, and simple. Its primary purpose; to encourage believers to apply Romans 10:17, "faith comes by hearing and hearing by the Word of God."
Xulon Press, a division of Salem Media Group, is the world's largest Christian self-publisher, with more than 15,000 titles published to date. Retailers may order An Easy Dig Thru "39 Ancient Sites" - The Old Testament through Ingram Book Company and/or Spring Arbor Book Distributors. The book is available online through xulonpress.com/bookstore, amazon.com, and barnesandnoble.com.
Media Contact: Otto D. Batty
Email: ottobatty(at)gmail(dot)com