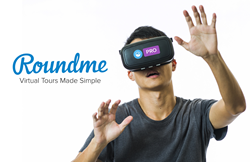 LOS ANGELES, CA (PRWEB) August 01, 2016
Roundme has always striven to be on the cutting edge of technological innovation. The company offers powerful, easy to use solutions for 360° VR content creators, and in 2016 the pace has been set. The latest Android App was launched in May followed by a brand new PRO Account service debut in July which was received with enthusiasm.
PRO Account is a paid subscription service that gives Roundme users access to premium features and increased usage opportunities, as compared to the Basic Accounts.
For only $8.25 per month, a Roundme PRO Account owners gain access to unlimited batch uploads, multi-resolution support, custom branded embeds, safe storage, as well as greatly increased maximum file size (up to 65,000 pixels), and much, much more.
On top of that, Roundme also offers Space Upgrades, Roundme's a la carte service that helps users control the branding, appearance, and functionality on a space-by-space basis, including the ability to restrict access to a space with a password. And for those who need to control where the content appears on the web, the company offers the ability to limit cross-platform publishing to select white-listed domains.
Roundme has also redesigned the mobile version (available on iTunes and Google Play) by adding new features, such as the improved Viewer (autorotation, improved navigation, and several 3D projection modes), browser VR mode (just plug in any favorite VR headset), and panorama photo replacement, while preserving the much-loved Portals, Hotspots, and Location information functionality.
Finally, Roundme's new Help Center offers handy tutorials and tips to help users hit the ground running and start creating.
To stay in the loop regarding the latest Roundme news, update bookmarks to the new official URL: http://www.roundme.com
####
ABOUT
Roundme is the ultimate virtual tour creator and 360° panoramic photography platform for building immersive stories. Using pictures taken with professional VR gear or the latest array of consumer 360° cameras, users can tell the story of any location or venue with media rich tools, including links, videos, pictures, and mp3s.