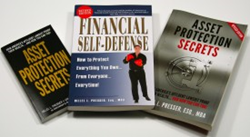 For every 60 minutes you spend making money, spend 60 seconds thinking about how to protect it!
BOCA RATON, FLORIDA (PRWEB) July 21, 2016
Another great international protective entity is the international limited liability company ("LLC"). This entity is similar to the domestic limited liability company, except that it is established internationally based on international laws. Every international jurisdiction has its own set of laws for creating a limited liability company in their country. One very protective jurisdiction for the international limited liability company is Nevis. A Nevis LLC is significantly more protective against current creditors than an international trust.
1. Understand how the Nevis Limited Liability Company Operates
The Island of Nevis is an island in the Caribbean, which enacted favorable LLC laws in 1995. A Nevis LLC can be member-directed or managed by a foreign director.  After setting up the LLC, you contribute your assets to the LLC and become a member of LLC member. As a member you indirectly own, but do not manage, the LLC.  Management rests with the director. This transfer of control (you not being the manager) protects the assets in the limited liability company from U.S. court orders. Recently, in 2015, the laws of Nevis have been revised to be more asset protection friendly. Namely, under the 2015 amendment fraudulent transfer actions brought in Nevis are subject to a two-year statute of limitations.
2. Identify the Advantages of the Nevis Limited Liability Company
The Nevis LLC is tax neutral – you can elect to have it taxed as a partnership or C corporation. You can structure your Nevis LLC so that it's profits flow to its members in whatever proportions you specify, which can differ from the actual ownership interest. You can appoint a protector to oversee the managing director. The managing directors and members of the Nevis LLC are immune from company liabilities. Nevis LLCs do not require minute books, annual director or member meetings or compliance with other customary corporate formalities. Your Nevis LLC can be owned by an international trust or combined with domestic entities – family limited partnerships, limited liability companies and/or irrevocable trusts. The burden of proof creditors need to overcome is advanced for fraudulent conveyance. And, a Nevis LLC is less costly to organize and maintain than an international asset protection trust.
3. Draft a Cuba Clause or "Flee Clause" into the Operating Agreement for added Asset Protection
The operating agreement for the Nevis LLC is prepared with similar formalities as the agreement for the domestic limited liability company; however, it follows the laws of Nevis. You can also have a flee/flight or Cuba clause, which is a provision in the agreement which requires the manager of the LLC to move the company to a new domicile upon the happening of a described event (such as the initiation of a creditor's attack against any member). In other words, such clause allows your manager to expatriate threatened LLC assets to another protective entity in another international financial center.
4. Understand the implications of the recent Florida Asset Protection Litigation Case, Well Fargo Bank, N.A. and Regions Bank v. Sabrina Barber and Blaker Enterprises, LLC ("Barber"), on using the Nevis LLC for Asset Protection
Here, there was a Florida debtor with a single member Nevis LLC and a creditor. In February of 2015, The United States District court in Orlando found that the membership interest in a Nevis LLC was subject to Florida jurisdiction. They reasoned that unlike the Corporation, a membership interest accompanies the person of the owner and therefore the member's domicile would be the deciding law (Florida law here). The court also found that Florida law, not Nevis law, applied to the creditor's application for a charging lien because the situs of the asset determines what laws are applicable to issues related to the charging lien. The court determined that single member foreign LLC's do not afford the protection of charging order protection, whereas, the multi-member foreign limited liability company would be charging order protected. The main point to take out of this case is that you should employ a knowledgeable asset protection attorney who stays ahead of case law. That way your assets stay protected through the changing laws and asset protection nuances of the United States as well as foreign jurisdictions.
5. Advice on who would make the Ideal Candidate to take Advantage of the Nevis LLC in their Asset Protection Planning
Most people who go internationally with their money are those with enough wealth to make it worthwhile, with at least $500,000 or more. Business owners fit very well into this category. Professionals with growing businesses, such as doctors and lawyers also fit well into this group. These people rightfully want appreciably stronger protection than domestic or U.S.-based entities can provide.
The Presser Law Firm P.A., Asset Protection Attorneys, represents individuals and businesses in connection with the establishment of comprehensive Asset Protection plans that incorporate both domestic and international components.
Visit the Law Firm's Visit the Law Firm's website (http://www.AssetProtectionAttorneys.com) for access to educational material on asset protection, business law, estate planning, and probate including webinars, articles and detailed legal explanations.
Contact The Presser Law Firm, P.A., Asset Protection Attorneys for a Complimentary Preliminary Consultation with one of our attorneys or to receive complimentary copies of our latest best-selling books on Asset Protection.