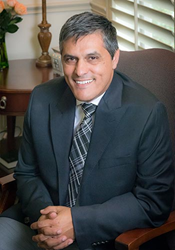 McKinney, TX (PRWEB) July 20, 2016
Dr. Marco Cueva now offers dental implants in McKinney, TX, to new patients without requiring a referral from a general dentist. There are many benefits to this method of tooth replacement, which involves an implant secured to the jawbone with a prosthesis attached above the gum line. The new tooth is anchored firmly in place allowing patients to no longer suffer from food restrictions, discomfort and chafing that often attend removable dentures.
Dentures have been a tooth replacement option for over a thousand years, filling gaps in smiles and providing people who are missing teeth the ability to chew their food. Although these prostheses are a significant improvement over the alternative, they cannot offer all the functions of a natural tooth. This is because removable dentures rest on top of the gums and are not secured to the jawbone. Not only does the root provide an anchor, it also promotes healthy bone density as it moves gently in the socket during chewing function. Without it, the bone is no longer stimulated to grow, causing degradation and allowing surrounding sockets to shift and loosen remaining teeth. It also leads to shrinkage of the facial structure which can change a person's appearance.
One of the most important differences between an implant and removable dentures is the titanium post that is surgically placed in the empty socket. There, it fuses to the jawbone and prevents bone loss while securing the new tooth in place. The crown is designed to fit the space and match the other teeth for a completely natural looking smile. Normal brushing, flossing and professional cleanings are necessary to maintain the health of the new tooth and the surrounding structures.
Multiple options are available, so patients may have several dental implants in McKinney, TX, or they may require a full arch of new teeth that is anchored with a limited number of implants. More information about tooth replacement options is available on Dr. Cueva's website at http://www.perioexcellence.com. Patients do not have to wait for a referral to call (972) 704-1101 and schedule an appointment.
About the Doctor
Periodontic Excellence is a periodontal practice offering personalized dental care for patients in Allen, TX. Dr. Marco Cueva is a Board Certified Periodontist and has extensive education in periodontology and dental implantology. He attended the Federal University of Parana where he received his Doctor of Dental Surgery Degree, and completed three additional years of training at Camillo Castelo Branco University, before training at Baylor College of Dentistry. Dr. Cueva also earned his Masters of Science Degree in Oral Biology with a certification in Periodontics from Texas A&M University Health Science Center- Baylor College of Dentistry. Dr. Cueva offers a variety of services, specializing in dental implants, All-on-4® and the minimally invasive Chao Pinhole® Surgical Technique for treating receding gums. To learn more about the services offered at Periodontic Excellence, please visit the website at http://www.perioexcellence.com or call (972) 704-1101 to schedule an appointment.