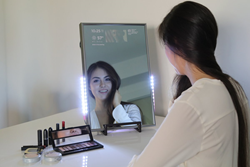 The possibilities of a smart mirror are endless, and this is just the beginning. We are going to change the way people start and end their day
New York, New York (PRWEB) July 21, 2016
Everyone's favorite topic? Themselves, of course! So it's no surprise that a recent poll found that the average person spends more than 38 minutes in front of the mirror every day. Perseus Mirrors (http://www.perseusmirrors.com), a startup based in New York, is claiming that they can help users look and feel better by making the most of this time. The team has recently announced plans to release the world's first consumer focused smart mirror. This device features a built in display and wifi connection, allowing users to display relevant information and to stream audio and video straight to their mirror.
Nikhil Srivastava, who is in charge of new product development at Perseus, described some of the mirror's functionality, saying, "Imagine this: a weather alert pops up while you are brushing your teeth and reminds you to bring your umbrella. As you adjust your hair, a text message from your boss appears at the bottom of the screen. Best of all, there is no need to put down that hair product - the mirror is controlled through simple voice recognition menus."
With a built in HD camera, the smart mirror also gives individuals the ability to take selfies with a simple voice command. Users can then apply filters, share with friends, or post to social media within seconds. There are also plans to allow for secure 'video chat' capabilities, which would let friends coordinate before a night out.
The Perseus team has also announced the release of a software developers kit, which will allow third parties to create apps for the device. An app currently in development allows for 'smart scanning' of products - a demonstration revealed the ability to get direct-to-home product shipping after the product barcode was displayed in front of the smart mirror's camera.
Erik Skantze, CEO of Perseus explains, "We wanted to create an experience that would be customized to each individual user. One person might want to read up on the latest celebrity gossip, while another might want to see a video about the presidential election, and another may want to listen to R&B while getting ready. We need the flexibility to meet each of these needs. The possibilities are endless and this is just the beginning. We are going to change the way people start and end their day."
Over the last year, Perseus has won a number of innovation and startup competitions, and is currently part of three prestigious new product development accelerators in New York, San Francisco, and Philadelphia, including a program partnered with Google Developers Launchpad. The founding team consists of Erik Skantze, Antina Lee, and Nikhil Srivastava, a group of serial entrepreneurs, Wharton MBAs, and Harvard graduates. Reportedly, individuals will be able to reserve a mirror through the Perseus Kickstarter campaign (which starts July 26th) for $199 early bird pricing, a 50% savings off the MSRP.