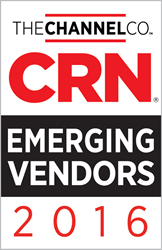 New York, NY (PRWEB) July 20, 2016
NopSec, a Precision Threat Prediction and Remediation company, announced today that CRN®, a brand of The Channel Company, has named NopSec to its 2016 list of Emerging Security Vendors. This annual list recognizes recently founded, up-and-coming technology suppliers who are shaping the future of the IT channel through unique technological innovations. In addition to celebrating these standout companies, the Emerging Vendors list also serves as a valuable resource for solution providers looking to expand their portfolios with cutting-edge technology.
For the fifth consecutive year, NopSec has been selected to CRN's Emerging Security Vendors List due to the company's exceptional contributions and superior thought leadership in vulnerability risk management technology and information security.
The recently released NopSec Cloud Security Module is a first in cloud security - an innovative cloud vulnerability management engine, integrated within the NopSec Unified VRM platform, that leverages OVAL compliance and a patented risk prioritization engine. The Cloud Security module empowers IT teams managing cloud infrastructures to accelerate risk prioritization and threat remediation. NopSec's thought leadership initiatives include their Annual State of Vulnerability Risk Management Report, referenced by top IT professionals for its findings on key security threats by industry, and NopSec's ground-breaking use of social media threat intelligence correlating to information security vulnerabilities.
"The select group of companies on our Emerging Vendors list have already made a name for themselves in their short time in the IT community, introducing leading-edge technologies with the potential to transform their segments of the IT market," said Robert Faletra, CEO of The Channel Company. "These tech suppliers are quickly making their mark on the industry and are the ones solution providers should watch in 2016."
"We are passionate about keeping our customers secure. As we rapidly grow our customer base, we are proud to be recognized once again by CRN as a disrupter and innovator in threat and vulnerability risk management," said Lisa Xu, CEO of NopSec. "Our cloud-based Unified VRM platform helps organizations quickly operationalize IT security processes and provides intuitive easy-to-use tools to enable security automation and effective remediation. Coupled with our pioneering data science practice, our team leverages advanced artificial intelligence and machine learning to forecast the likelihood of a security breach, prioritize threat remediation, and enable customers to close the window of opportunity for hackers faster and with precision."
The Emerging Vendors list will be featured in the August 2016 issue of CRN and online at http://www.crn.com/emergingvendors.
Follow The Channel Company: Twitter, LinkedIn and Facebook
Tweet This:
@TheChannelCo names @NopSec to @CRN 2016 Emerging Vendors list #CRNEV http://www.crn.com/emergingvendors
About NopSec
NopSec provides precision threat prediction and remediation workflow solutions to help businesses protect their IT environments from security breaches. The company's flagship product, Unified VRM, is a SaaS solution that provides intelligent context to vulnerability data, enabling security teams to visually forecast threat risk to dramatically reduce the turnaround time between identification and remediation of critical security vulnerabilities across infrastructure and applications. NopSec has been recognized as one of the 20 Most Promising Enterprise Security Companies by CIO Review , an SC Magazine 2016 Trust Award Finalist, and named to CRN's list of Emerging Security Technology Vendors for four consecutive years. NopSec also offers penetration testing and adversarial simulation services. For more information, please visit http://www.nopsec.com
Follow NopSec: Twitter, LinkedIn and Facebook
About the Channel Company
The Channel Company enables breakthrough IT channel performance with our dominant media, engaging events, expert consulting and education, and innovative marketing services and platforms. As the channel catalyst, we connect and empower technology suppliers, solution providers and end users. Backed by more than 30 years of unequaled channel experience, we draw from our deep knowledge to envision innovative new solutions for ever-evolving challenges in the technology marketplace. http://www.thechannelco.com
CRN is a registered trademark of The Channel Company, LLC. The Channel Company logo is a trademark of The Channel Company, LLC (registration pending). All rights reserved.
Channel Company Contact:
Melanie Turpin
The Channel Company
(508) 416-1195
mturpin(at)thechannelco(dot)com