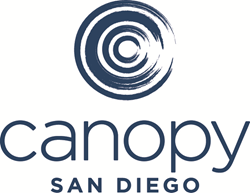 "We couldn't be more excited about launching an accelerator for technology companies serving the cannabis market right here in San Diego," says CEO Eric Gomez.
San Diego, CA (PRWEB) July 21, 2016
Canopy San Diego, a new early-stage business accelerator dedicated to developing technology-based ancillary product and service companies serving the legal cannabis market, officially launched today. Canopy San Diego was formed through a strong partnership with the CanopyBoulder organization, which has operated similar business accelerators in Boulder and San Francisco, for the past 2 years. This relationship ensures a strong connection with the Arcview Group, an investor network with over 550 investors and has facilitated investments of more than $75 million in 121 companies.
Canopy San Diego will be led by CEO Eric Gomez, Managing Director Jack Scatizzi, and Founding Partners Lincoln Fish and Wyatt Hinshaw. Gomez brings a wealth of experience in the angel investment community, as well as Fortune 100 business experience. Scatizzi was most recently the Head Analyst for the Tech Coast Angels San Diego network, where he reviewed almost 600 funding applications and oversaw the organization's due diligence efforts resulting in $27M worth of investments in 35 companies over the past 4 years. Fish is a Wharton graduate and the CEO of OutCo Labs, one of the fasting growing companies in the cannabis space. Hinshaw is a trained engineer skilled in diligence and guidance of early stage technology companies.
"We couldn't be more excited about launching an accelerator for technology companies serving the cannabis market right here in San Diego," stated Gomez. "Entrepreneurs have always had a solid base of support in southern California, and we are a hub for biotech, which has strong parallels to the maturing cannabis space. This industry is set to explode, and Canopy San Diego will be helping to lead that charge."
The accelerator plans to launch this fall with a first cohort of 10 companies and will play an active role mentoring and assisting in launching as many as 40 companies over the next 2 years. Every portfolio company selected will receive $20,000 in seed capital, office space, and intense mentoring and guidance from both local startup and cannabis experts. Additionally, the top 3 companies from each cohort will receive $50,000 in follow-on funding from Canopy San Diego.
Although many potential startups will be considered as portfolio companies, Gomez made it clear that Canopy San Diego will focus only on technology-based ancillary product and service providers, in areas such as data analytics, processing technology, and energy management. He also stressed that they are not interested in any companies that "touch the plant," only companies developing the technology infrastructure that will be required to grow the industry to match the market demands and legalization trends.
Canopy San Diego is actively recruiting companies to participate in their fall cohort. Specifically, they are interested in early-stage technology-based companies that are developing solutions within the following sectors of the cannabis market: grow technology, energy and water technology, payments and banking, back office, social and internet media, data and analytics, certification and standardization, packaging, health and education, and extraction and processing. Additionally, Canopy San Diego is seeking to support women-led and minority-led companies. Companies interested in applying for the fall cohort should visit the website (http://canopysd.com/apply) to submit an online application.
Canopy San Diego is also seeking mentors and investors that are interested in being part of the team. Additional information for mentors and investors can be found on the Canopy San Diego website (http://www.canopysd.com).
About Canopy San Diego
Canopy San Diego is a seed-stage business accelerator for technology-based ancillary product and service companies within the legal cannabis industry. Selected companies receive seed funding, office space, mentorship, and guidance in raising capital through a 16-week mentorship driven program in return for a 6-9.5% equity stake.