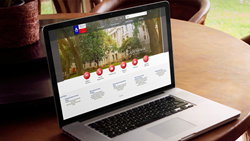 We have a great relationship with CivicPlus and now we have an accessible website as proof of that partnership. We look forward to continuing to work with CivicPlus in the future.
Manhattan, KS (PRWEB) July 25, 2016
Located in Central Texas, within 200 miles of 70 percent of the state's population, McLennan County has become known as the "Heart of Texas." The County's proximity to major cities such as Austin, Dallas, Fort Worth, Houston, and San Antonio makes it a convenient hub for distribution and higher education opportunities, as well as health care and the aviation industry. McLennan County has built a diversified and stable economic base that is supported by a quality workforce, attractive real estate opportunities, favorable tax treatment, and abundant natural resources.
The prospect of continued growth looks very encouraging. According to Desktop Support Manager Chaquinta Fisher, the area attracts a wide demographic of different types of people. In order to better serve this diverse population, the County turned its attention to how it could quickly and easily provide information by harnessing the latest technology.
Before CivicPlus
McLennan County's previous website system offered limited functionality and lacked room for interactive growth and responsive design. "With our old website, you had to keep scrolling and scrolling and zooming in and zooming out if you were on a mobile device," said Fisher. "You could see everything, but it was hard to navigate around."
The County wanted a site that was in-step with the times and would meet ADA compliancy standards. Fisher said citizens were able to find basic information on the old site, "for the most part," but departments received a lot of phone calls. The County was looking for a system that would allow people to easily find important information quickly, especially during emergencies.
From a maintenance standpoint, the IT department handled the majority of the website changes. A few departments that needed to make changes on a regular basis were able to upload files, but the system wasn't user-friendly enough for the average staff member to use. "If we needed to make advanced code changes, it took a lot of our time," Fisher said. The County decided there had to be a better way and turned to CivicPlus for help.
After CivicPlus
McLennan County is thrilled with its new, responsive website. "We found that at least 30 percent of our users are on smartphones," Fisher said. "The new website is great because people can easily access it from desktop to mobile device to tablet, so that's very helpful. The look is really nice. It's attractive, colorful, and in tune with the latest website trends. County employees really like it – it looks a lot cleaner and sharper, and it's quicker too."
The new site meets the County's ADA compliancy goals and is extremely user-friendly. Anyone can quickly find information thanks to the predictive search bar, FAQ module, and clear layout – and they can instantly translate it into another language. This has not only been an improvement for citizens, but has proved to be a time-saver for the County as well.
"For most departments, the new website has drastically reduced the amount of random phone calls they receive," Fisher said. "We actually used to get a lot of calls in the IT department – people would just call any information number they could find. Now those calls have stopped because the answers people need are easy to find on the website."
With the CivicPlus system, most departments can maintain their own pages, which has improved workflow. "Making changes used to take quite a lot of our time," Fisher said. "Now we can focus on the bigger projects that we have in the IT department. The turn-around is a lot quicker because the system is easy for others to use."
McLennan County loves the features of its new website, including the Document Center and Image Center, for easy site organization. The Alert Center allows the County to bring important information to the forefront of the website so it's the first thing citizens notice. "Thankfully, we haven't had any emergencies since switching to the new site, but we've been using it to draw attention to jury duty information and to attract more people to apply for jobs in McLennan County."
About CivicPlus
CivicPlus is a cloud-based solutions company working with over 2,000 local governments including municipalities, townships and counties. CivicPlus has been selected by Inc. Magazine as "One of the Fastest-Growing Privately Held Companies in the U.S." since 2011. To view the website and for more information related to CivicEngage™, CivicHR™ and CivicReady™, visit http://www.CivicPlus.com.