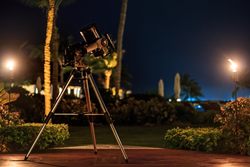 Stargaze as the Mayans did at Mexico's "Beyond All Inclusive, Beyond All Compare" Resort
Riviera Maya, Mexico (PRWEB) July 21, 2016
The ultra-luxury all-inclusive Grand Velas Riviera Maya has launched a new stargazing series for guests staying at the resort. Lead by an expert astronomer from the Astronomic Society of Quintana Roo (SAQROO) guests are guided through the Riviera Maya's stars and planets linking to Mexico's Mayan forefathers.
Set on the Yucatan Peninsula and surrounded by 206 acres of pristine jungle and verdant mangroves, Grand Velas Riviera Maya is the ideal location from which to explore Mexico's Mayan heritage with the ruins of Tulum, Coba and Chichen Itza all within easy reach of the resort.
The practice of astronomy was very important in Meso-American culture with the Maya using the alignment of the stars and planets to help with agriculture, time keeping and the creation of their calendar. They also believed that celestial events allowed them to communicate with the gods including their supreme deity Unab-Ku.
Grand Velas Riviera Maya's stargazing sessions explore these connections under the stars against the backdrop of the Caribbean Ocean. State of the art telescopes are provided, allowing guests to see constellations including Orion, the planet Venus and the detail of the moon. SAQROO's experts unravel Mayan mythology and help guests take pictures of all they discover on their journey through the skies.
Stargazing takes place on a decked area of the beach lit by traditional Mexican candles known as amarantos. Drinks and snacks are served from 7:30 pm including juices for children, Mayan-themed cocktails, popcorn and nuts. Sessions will begin at 10 pm and more details can be found from the hotel's concierge.
Grand Velas Riviera Maya is a Mexican-owned resort with three distinct ambiances, including adults-only ocean view suites, a zen-like tropical setting home to the resort's award-winning spa and the family-focused Ambassador zone. All 539 designer suites include local Mexican artwork and décor and a bottle of artisanal tequila.
Nightly rates start at $393 per person per night based on double occupancy. All-inclusive rates include luxury suite accommodations, à la carte gourmet meals at a variety of specialty restaurants, premium branded beverages, 24-hour in-suite service, fitness center, taxes, gratuity and more. For more reservations or more information on Grand Velas Riviera Maya, please email reservations(at)velasresorts(dot)com, call 1-888-407-4869, or visit http://rivieramaya.grandvelas.com/.
About Grand Velas Riviera Maya:
Set on 206 acres of pristine jungle and mangroves and with the finest white sand beach in the Riviera Maya, the AAA Five Diamond Grand Velas Riviera Maya is an ultra-luxury all-inclusive resort. Guests can choose among three separate ambiances in this Leading Hotel of the World, including adults only oceanfront, family friendly ocean view and a Zen-like tropical setting, embraced by the flora and fauna of the Yucatan Peninsula's jungle. All 539 designer-like suites are exceptionally spacious, more than 1,100 square feet each, all with balconies, and some with private plunge pools. All feature fully stocked mini bars, plasma TVs, Wi-Fi, L'Occitane amenities, artisanal tequila, and Nespresso coffee machines. Bathrooms deserve special mention with walk in glass shower, deep soaking Jacuzzi tubs and marble interior. Eight restaurants, including five gourmet offerings, present a tour through Mexico, Europe and Asia. Cocina de Autor, at the hands of world celebrity chefs Bruno Oteiza, Mikel Alonso and Xavier Pérez Stone, holds the AAA Five Diamond Award, the first all-inclusive restaurant in the world to win this prestigious distinction. Grand Velas Spa, a Leading Spa of the World, is the region's largest spa sanctuary at more than 90,000 square feet, known for its authentic Mexican treatments, offerings from around world and signature seven-step water journey. Other features include 24-hour Personal Concierge; 24/7 in-suite service; three swimming pools; two fitness centers; water sports; innovative Kids Clubs and Teen's Club; Karaoke Bar; Koi Bar; Piano Bar, and business center. The resort offers more than 91,000 square feet of meeting space and outdoor areas for events inclusive of a 31,000-square-foot Convention Center, able to accommodate up to 2,700 guests. The resort has won numerous awards from Travel + Leisure, Conde Nast Traveler, USA Today and several other magazines and major companies worldwide. This year, the resort entered TripAdvisor's Hall of Fame for obtaining the Certificate of Excellence for five consecutive years in addition to the Signature Spa being awarded "Best Luxury Resort Spa-The Americas" at the World Luxury Spa Awards 2014. Grand Velas Riviera Maya was built and is operated by Eduardo Vela Ruiz, majority owner, founder and President of Velas Resorts, with his brother Juan Vela, Vice President of Velas Resorts.