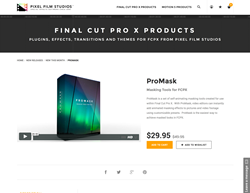 ProMask allows video editors to add animated masking effects to pictures and video footage using customizable presets
Aliso Viejo, California (PRWEB) July 25, 2016
Pixel Film Studios Announced the Release of ProMask, a Masking Tool Plugin for Final Cut Pro X.
"ProMask allows video editors to add animated masking effects to pictures and video footage using customizable presets," said Christina Austin - CEO of Pixel Film Studios.
ProMask is a set of customizable masking tools created for use within Final Cut Pro X. With this plugin, video editors can apply adjustable masks showcase pictures and video footage in FCPX. Pick and choose from presets with adjustable scales, unique animations, and customizable styles.
ProMask presets feature intuitive on-screen controls that allow editors to easily scale, position, and rotate masks. Manipulate up to 6 custom masks and play with presets with row, column, and spread options. Pixel Film Studios' ProMask is the easiest way for editors to create masked looks in Final Cut Pro X.
Find ProMasks' animation options with easy pop-up menus under the "Animation Controls" section in the inspector window. Pick and choose from fading, scaling, and no animation options with the click of the mouse. For advanced users, adjust the intro and outro speed methods to tweak the timing of animations.
Easily change the background color, adjust the roundness of masks, and choose the anchor point of animations with ProMask's style controls. To achieve more dynamic looks, utilize the "slant" sliders to skew the perspective of masks.
Established in 2006, Aliso Viejo, California-based Pixel Film Studios is an innovative developer of visual effects tools for the post-production and broadcast community. Their products are integrated with popular non-linear editing and compositing products from Apple FCPX. Apple, the Apple logo, Mac OS X, and Macintosh are registered trademarks of Apple Inc. in the U.S. and/or other countries. All other trademarks and trade names are the property of their respective owners.