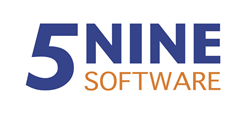 Click to Tweet: #5nine Software Releases Microsoft Hyper-V Most Complete Security & Compliance Solution with 5nine Cloud Security v8 www.5nine.com/Security
CHICAGO, IL (PRWEB) July 26, 2016
5nine Software, the leading global Hyper-V virtualization security and management provider, today announced the release of the industry's leading security and compliance solution, 5nine Cloud Security version 8.0. The new version includes enhanced logging, simplified intrusion detection analytics, improved antivirus notifications, along with dozens of other management, scalability and performance enhancements.
"We are very pleased to continue to improve the core 5nine Cloud Security product, making it easier for our customers to identify, isolate and resolve all types of threats," said Dr. Konstantin Malkov, CTO at 5nine Software. "With the new 5nine Cloud Security v8, security administrators will be able to improve their understanding of their infrastructure vulnerabilities, and fill each gap with a solution specifically designed and optimized for Microsoft Cloud and Hyper-V."
Other highlights of the new version include:

Enhanced logging for easier compliance and reporting
Simplified intrusion detection (IDS) analytics and alerts to isolate threats faster using Cisco Snort for Business
Improved antivirus engine synchronization, monitoring and notifications with either Bitdefender, Kaspersky Labs or ThreatTrack
Streamlined management of upgrades and PowerShell administration
Enterprise scalability enhancement
New capabilities with Windows Azure Pack (WAP) for Security as a Service (SECaaS)
Availability
5nine Cloud Security v8 is available immediately. For more information or to download a free 30-day trial version, please visit: http://www.5nine.com/Security
About 5nine Software
5nine Software is the leading global Hyper-V virtualization security and management provider. It offers the first and only agentless security and management solutions for Microsoft Hyper-V. 5nine Software provides innovative, powerful and easy-to-use software designed to reduce costs, increase productivity and mitigate security risks. Today, 5nine Software helps over 100,000 satisfied users around the globe to reach the full potential of their virtual infrastructure.
Founded in 2009, 5nine Software is headquartered in Chicago, with offices worldwide. 5nine is a Microsoft Gold Datacenter Partner, Enterprise Cloud Alliance Partner, Azure Pack Partner, and member of the Virus Information Alliance.