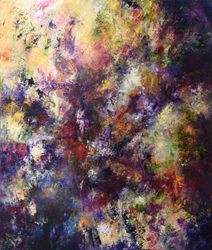 Pippin's color explodes off the canvas in her new exhibition - "For the Love of Color".
Santa Fe, NM (PRWEB) July 22, 2016
Color explodes off the canvas in this selection of paintings for Aleta Pippin's upcoming exhibition – For the Love of Color on view at Pippin Contemporary from October 12th through October 26th. The selected paintings exemplify Pippin's intuitive and powerful use of color in combination with her remarkable ability to capture and energize movement.
Pippin, in her third career, is considered a self-taught artist. She attended classes with various local artists to learn how to use paint, but it wasn't until she embarked on a personal journey into self-discovery, that her painting style took form. Pippin continues on that journey, endeavoring to sustain a high level of introspection, intrinsic to the artist's process.
The robust color and movement of the artist's painting surfaces are transcendent in their ability to engage the viewer. Uplifting and sublime, Pippin's exhibition, For the Love of Color, demonstrates the artist's belief that the vibrational impact of color impacts the viewer's physiology and emotions.
Pippin's passion for abstract painting stems from a love of creating her personal vision, a fusion of reality and imagination. "My goal with every painting is to impart an internal expression that flows freely through me, basically a narrative inspired by the paint."
Pippin, like many boomers today, is in her third career. She ventured into painting after her 1991 move to Santa Fe from Houston, where she had her business centers. Recollecting her childhood love of drawing, she started taking painting classes and decided to make her next career that of artist, harkening back to her childhood dream.
Fully committing to her dream in 2003, Pippin's art career has literally skyrocketed. Juried into the Santa Fe Society of Artists, in 2004 she began selling her work through their weekend venues just off the Historic Plaza. By 2006 she opened Pippin Meikle Fine Art with fellow artist, Barbara Meikle; in 2011, she opened Pippin Contemporary. From the period 2006 through 2013, Pippin had sold over 500 of the 775 plus paintings she'd completed. Though thrilled with the acceptance she has received from her work, she knows that her collectors are key to that success and imbues her paintings with love and appreciation for each of them.
Please visit For the Love of Color to view pieces from her exhibition. The entire exhibition will be on the website by October 1st and continue through the end of the year.
Pippin Contemporary, founded in May 2011 by artist Aleta Pippin, is located on historic Canyon Road in Santa Fe, New Mexico. The gallery is committed to showing original art that is fresh and vibrant, as well as collectible. Pippin Contemporary artists, selected for their energetic and tactile approach, provide visitors with a "sensory experience of color and mood" through vivid portrayals of personal expression. Their work ranges from contemporary abstracts, landscapes, and wild creatures in a unique portrait style to contemporary sculpture in stone, glass, steel, and bronze.