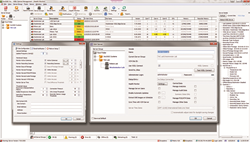 Successful integrators are constantly on the lookout for added-value services they can offer to enhance their RMR menu of end user benefits--our VCM cloud-based offering takes the integrator where they need to go. Matt Kushner, 3xLOGIC CEO
Westminster, Colorado (PRWEB) July 20, 2016
3xLOGIC, Inc. a leading provider of integrated intelligent security solutions today announced the launch of VIGIL Central Management (VCM) 9.0. in both cloud and server-based solutions.
VIGIL Central Management provides the ability to monitor the status of VIGIL Servers and V-Series cameras. Designed with the integrator in mind, VCM proactively informs integrators and/or end users of any potential health concerns with their VIGIL Servers or cameras.
Every integrator has had that awkward conversation about the lost video of the important incident because that particular camera had been down for weeks. With VCM, the integrator will know when the status of a customer's VIGIL Server or cameras changes, enabling immediate action to resolve any potential issues.
Created to add value in any scenario, VCM can be deployed for a single, enterprise-level project or it can manage thousands of single or multi-location end users on the same system. VCM can reside anywhere: physical or virtual servers; inside or outside of an end-user firewall; or, new in VIGIL 9.0, hosted by 3xLOGIC in the cloud.
VCM Features

Monitor the health of your 3xLOGIC VIGIL appliances: CPU utilization; number of active cameras; video footage data ranges; and storage capacity and days of video storage
Remotely deploy software updates and configuration changes
Centrally control users and their permissions on any or all connected VIGIL Servers
Dynamically populate VIGIL Client's Server list
Receive warning notification on system health through VCM Client and/or via text/email
"Our new VCM cloud-based offering is quite an exciting development," said Matt Kushner, CEO, 3xLOGIC. "Successful integrators are constantly on the lookout for added-value services they can offer to enhance their RMR menu of end user benefits. When you solve an end user's problem before they know they have one, and often without even rolling a truck, then you've got a real winner—VCM takes the integrator where they need to go."
About 3xLOGIC
3xLOGIC Inc. has been a leading innovator in server and cloud-based security technology for 15+ years. The company is recognized for providing easy-to-use surveillance and business intelligence solutions that seamlessly integrate video, access control, and disparate data such as ATM, Point-of-Sale, analytics, and more.
3xLOGIC's video surveillance solutions are engineered for ease of installation, scalability and affordability combined with a managed services portfolio that enables integrators to effectively evolve from dealers to high-value strategic partners. For more information about 3xLOGIC, please visit our website http://www.3xlogic.com.
For 3xLOGIC Media Queries:
Bruce J. Doneff
Public Relations
843.476.3022
doneff(at)verizon(dot)net
For 3xLOGIC:
Wendi Burke
Senior Director of Marketing
720.945.7966
wendi.burke(at)3xlogic(dot)com
###