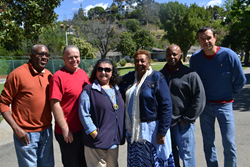 To stay this long, people really have to care about what they do and be good at it."
PASADENA, CA (PRWEB) July 21, 2016
The foster care field is currently in the midst of a dramatic change. While children used to spend years in therapeutic residential homes, today, due to recent legislation, they stay for much shorter durations, with the emphasis on reunification with a child's family and community.
While children come and go at Hillsides Pasadena Residential Treatment Services, which serves 125 children in foster care annually, one thing stays the same: a committed core group of long-term staff members.
Research shows that some agencies see a worker turnover rate of as high as 90 percent per year. At Hillsides, however, 100 of the 416-person staff has been here for 5 -10 years and 86 have been on staff for 10 – 30 or more years.
Such employees are also the "extreme exception," in the child welfare industry, according to Bruce Saltzer, the executive director of the Association of Community Human Services Agencies, which represents more than 85 nonprofit community agencies in child welfare, mental health, and juvenile justice services. These jobs are a huge responsibility, a lot of stress, and typically low wages, he said. "To stay this long, people really have to care about what they do and be good at it."
What keeps long-term employees committed and engaged at Hillsides? How have they been able to avoid burn out, which according to an article in Administration and Policy in Mental Health and Mental Health Services Research, may affect 21-67% of mental health workers?
Recently six staff members celebrated a combined 180 years of service to the agency. Here, they share their thoughts on what has kept them dedicated to Hillsides all these years.
Melvyn Washington, a school liaison with 32 years at Hillsides who advocates for the education rights of Hillsides children, explained his commitment to Hillsides this way: "I'm an overachiever. Everyone always says, if you can save one kid, you've done your job. Well, I am going to save as many kids as I can."
He regards each child as the most important one on the planet, and he expects the same from everyone else when negotiating a child's educational plan. "I always tell the schools, you treat my kids like Sasha and Malia [President Obama's daughters], and we'll get along just great," he said.
Childcare counselor Lucy Garabedian, who the children call "Momma Lucy," credits her long tenure of 35 years as a childcare worker in the residential cottages to her ability to continually care for each child who comes her way. "I love them on the good days, I love them on the bad days," she said. "I always make them feel special." She knows that for many children, she is the first nurturing adult they have had in their lives, and she takes this responsibility seriously.
For Hillsides teacher Rob Wherley, who has been at Hillsides for 23 years, it's his "heart" for vulnerable children that keeps him on the job. "Kids in foster care have such a need; they deserve everything we can give them," he said. He has used his talents as a singer/songwriter to develop a music program for Hillsides and he also runs a one-on-one reading program, Reading Rocks, for low-achieving readers where some 35 – 40 children participate and have seen their reading levels improve by at least one grade level.
Carolyn Clegg, a resource assistant with 36 years under her belt at Hillsides, who admitted that she once did consider quitting a year into the job because it was hard to witness the pain the children in foster care had been through, credits her desire to create a "safe place" for the children for motivating her all these years. Her cozy office is filled with books, games, and art supplies. Any time children need an extra dose of nurturing, they drop by her room for some "Carolyn" time.
Campus Supervisor Joseph (Jo Jo) White, who has been with Hillsides for 28 years, compares the job with combat. "I may not win every battle, but I can win the war," he said. For him, winning the war means "helping kids get better." One way he does this is to encourage children to make healthy choices even when they're feeling frustrated or angry at what life has thrown at them. What has sustained him throughout the years is the "reward of the little things," he said, "like "being able to see the kids drop their walls and allow people to help them."
Another way the staff stays engaged with their jobs is by finding new challenges on the job. "The kids are always changing, so there's always something fresh and new," said Rob DaSilva, who started out as a life guard at the campus pool in 1990 and is now a campus supervisor.
Looking toward the future, these Hillsides veterans continue to defy the statistics by looking ahead to more years at Hillsides. What keeps them here is the same motivating force that led them to the agency in the first place: "The children," said Clegg. "It's all about the children."
Hillsides provides high quality care, advocacy, and innovative services that promote safe, permanent environments where children and youth can thrive. Headquartered in Pasadena, the agency and its affiliation with Bienvenidos serves children and families in Los Angeles County throughout its 35 sites, including school-based mental health offices in Los Angeles, Pasadena, and Baldwin Park. Licensed resource homes, formerly known as foster homes, serve families in Los Angeles, Orange, San Bernardino and Riverside Counties. To learn more about both agencies, visit http://www.Hillsides.org and http://www.Bienvenidos.org.
###