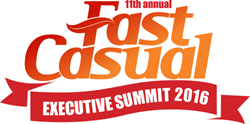 LOUISVILLE, KY (PRWEB) July 21, 2016
Although the 11th annual Fast Casual Executive Summit isn't until Oct. 9-11, attendees can get in at $595 as opposed to the regular price of $795 if they register by Friday, July 22. If that's not enough incentive to register to attend in sunny California for the summit, below are top five reasons to sign up for this amazing event.
5. Amazing speakers and content
Not to brag, but this year's agenda is incredible. For the bargain price of $595, attendees will hear from a variety of execs, including:

Blaine Adams, VP of Supply Chain | Fazoli's
Nick DeCarlo, Director of Restaurant Solutions | The Wendy's Co.
Brian Balconi, VP | Gloria Jean's Coffees
Mario C. Bauer, CEO | Vapiano Franchising International
Steve Corp, SVP of Franchise Sales | FOCUS Brands
Craig Dunaway, President | Penn Station
Eric Ersher, founder and CEO | Zoup!
David Goldstein, COO | Sharky's Woodfired Mexican Grill
Scott Goodrich, COO | Uncle Maddio's Pizza
Phil Greifeld, President & CEO | Captain D's
Conor Kerlin, Chief Brand Dude | Mariposa Restaurant Holdings
Jennifer Klawin, SVP of Brand Strategy, West Coast | BuzzFeed
Frank Klein, CEO and president | Asian Box
Srini Kumar, CEO | CraftWorks Restaurants & Breweries
Michael Lastoria, CEO and Co-founder | &pizza
Erin Levzow, VP of Marketing | Freebirds
Aaron Noveshen, President and Founder | Starbird
Otto Othman, CMO and Co-founder | Pincho Factory
Adriano Paganini, CEO and Founder | Back of The House
John Pepper, Co-founder and CEO | Boloco
Meg Rose, VP of Field Operations | Firehouse Subs of America
Patty Scheibmeir, VP of R&D and Product Innovation | Rave Restaurant Group
Steve Schulze, Co-founder and CEO | Nekter Juice Bar
Larry Sidoti, CDO | Paris Baguette
Cecily Sorensen, VP of Corporate Communications | Firehouse Subs
Mike Speck, COO | The Halal Guys
Jeff Sturgis, VP of Franchise Development | McAlister's Deli
Jason Valentine, VP of Operations | Cousins Subs
Dan P. White, CEO | Growler USA — America's Microbrew Pub and Smiling Moose Rocky Mountain Deli
David Wolfgram, President and CEO | Yalla Mediterranean
4. Fast casual food tours
The summit kicks off Sunday, Oct. 9, with free food tours that will take attendees to three or four local up-and-coming fast casual restaurants. They'll not only sample the menu at each restaurant, but also visit with an owner, exec or manager who will discuss the concept.
3. What election?
The presidential election will be less than a month away when the summit rolls around, and this event will give everyone a break from all the outlandish and crazy headlines surrounding that chaotic contest. Instead of debating which candidate will be best for the country, attendees will learn how to better run their businesses no matter who ends up running the country.
2. Be the first to learn about hot new concepts
One of the most exciting sessions of the summit is "The Perfect Pitch," which is described as a friendlier version of "Shark Tank." Three previously selected entrepreneurs will pitch their new concepts not only to summit attendees but also to four expert judges who will offer advice on ways to grow their business.
Entrants must meet three guidelines:
1. must have at least one store open but no more than 10;
2. concept must be no less than six months old and no more than five years old; and
3. entrants must be willing to share revenue and average sales data.
Nominations will continue to be accepted for the Perfect Pitch through July 29. Three finalists will be selected by Aug. 8 to make the pitch on Oct. 11 at the summit. At the conclusion of the session, attendees will vote on the concept whose expansion plan they believe is most likely to succeed.
Finalists will receive a complimentary pass to the summit, but must cover their own costs for travel and accommodations.
1. Party with a purpose
The No. 1 reason to attend this year's Fast Casual Executive Summit is to "party with a purpose." Where else can restaurateurs meet and network with 300 of some of the most successful fast casual executives in the industry? They'll not only learn from one another, but also chat, drink, explore, dance and eat in a variety of amazing Orange County joints. Three words: Eagles Tribute Band.
Still need persuading? Watch the highlights from last year's event.
Registration is open with Early Bird pricing in effect until July 22.
ABOUT NETWORLD MEDIA GROUP
Founded in 2000, Networld Media Group is a leading business-to-business (B2B) media communications company specializing in digital media, associations and events in the mobile, self-service, digital signage, retail, food service and financial services industries. Online properties include ATMmarketplace.com, DigitalSignageToday.com, FastCasual.com, PizzaMarketplace.com, KioskMarketplace.com, MobilePaymentsToday.com, VirtualCurrencyToday.com, QSRweb.com, RetailCustomerExperience.com and ChurchCentral.com. Networld's event properties include the Fast Casual Executive Summit, CONNECT Mobile Innovation Summit, Interactive Customer Experience (ICX) Summit, Bank Customer Experience (BCX) Summit and the Restaurant Franchising & Innovation Summit. Networld also operates the ICX Association.
###