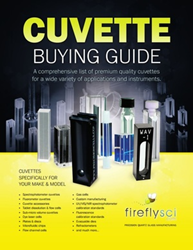 Brooklyn, NY (PRWEB) July 21, 2016
FireflySci Inc. is a white-hot UV cuvette manufacturer that is stunning the spectroscopy world with their explosive growth and spicy attitude about cuvettes. A cuvette is a seemingly dull product; that is best described as a square test tube. That being the case, FireflySci adds a quirky spin on everything they do with cuvettes such as Captain Quartz the cuvette pirate and Bongo Dean the cuvette bongo player.
As FireflySci continues to grow and build relationships with their customers, they have taken note of the changes in the way scientists have been conducting their experiments. As with everything else, the scientific world is constantly changing and improving. If a cuvette manufacturer is not keeping up with the latest cutting edge technology, then they may be on an unexpected course for disaster.
In an effort to stay ahead of the curve, in July 2016 FireflySci has launched a new UV Cuvette Guide that hosts the latest cuvette designs that all the scientists are craving. The UV Cuvette Guide is laid out in a concise, easy to read format making it a snap to find the exact cuvette needed for an experiment. There is no need to flip to hundreds of pages, wasting hours of time to try finding the right equipment wasting hours of time.
Included in the FFS guide is an expanded list of materials that a researcher can choose for their cuvette. In the past, there were only a UV quartz material to choose from. Now FireflySci has added Pyrex glass, optical glass, UV quartz, IR quartz, and Sapphire to their UV cuvette line. These new materials will help researchers laser focus in on the perfect UV cell for their research.
In addition, FireflySci has expanded their UV cuvette accessories. Lab safety is one of FFS' priorities as one can never be too safe in the lab. Therefore, they had added many useful cuvette tools to make a scientists job easier and safer. Tools such as FFS nitrile gloves, 3.5 mL pipettes, cleaning swabs, PTFE stoppers and covers, and many other accessories have been added to the guide.
The team at FireflySci is super pumped about the release of their UV Cuvette Guide and are looking forward to scientists taking advantages of their new products. All researchers who use cuvettes should immediately log onto FireflySci.com to download this free guide.