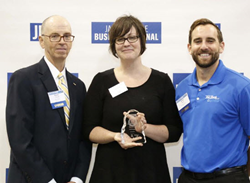 "This award belongs to our incredibly talented marketing and sales teams." - Kevin Conner, Vast Bridges CEO and Founder
Jacksonville, FL (PRWEB) July 21, 2016
Vast Bridges, a leading national customer acquisition company, announced that they have been recognized for the third year in a row as one of Northeast Florida's fastest growing companies by the Jacksonville Business Journal. Vast Bridges achieved the #42 ranking on this year's list. In 2014 the company was recognized as the #1 fastest growing company on the same list. According to the Jacksonville Business Journal, the ranking is based on the company's average annual revenue growth over the past three years.
"This award belongs to our incredibly talented marketing and sales teams," said Kevin Conner, Founder and CEO of Vast Bridges. "We pride ourselves on being an innovative, fun and hard-working culture and we are honored to be recognized again by the Jacksonville Biz Journal."
The Jacksonville Business Journal is a division of American City Business Journals. Its annual "Book of Lists," which includes "Fastest-Growing Companies," is compiled through research to determine the largest firms and companies ranked by area professionals and total staff. The Business Journals throughout the U.S. provide comprehensive coverage of business news from a local, regional and national perspective. To read more, visit http://www.bizjournals.com/jacksonville.
Vast Bridges has never received outside investment and has grown from a 1-person startup in 2012 to over 25 people today. The company's cutting-edge online marketing to drive tens of thousands of new customers for companies like DirecTV, Dish Network and Comcast. In 2014, Vast Bridges won the Business Journal's coveted "Best Place to Work" award.
About Vast Bridges
Jacksonville based Vast Bridges is a customer acquisition company. It specializes in increasing the customer base for its partners through cutting edge online marketing strategies and a professional sales staff. It is an authorized dealer or reseller for the nation's largest Internet and TV brands. Vast Bridges has an inspired work culture, encouraging an entrepreneurial spirit, philanthropy and continual innovation. To learn more, please visit VastBridges.com