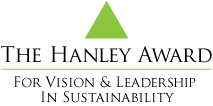 (PRWEB) July 21, 2016
The Hanley Foundation and Hanley Wood announced today that Rick Fedrizzi, Founding Chair and CEO of the U.S. Green Building Council in Washington, D.C., has been selected as the seventh recipient of The Hanley Award for Vision and Leadership in Sustainability. The Hanley Award is recognized as the largest and most prestigious annual award for sustainability in the built environment.
Now celebrating its seventh year, The Hanley Award is sponsored by The Hanley Foundation and supported by Hanley Wood's BUILDER and ARCHITECT publications and EcoBuilding Pulse (EcoBuildingPulse.com). The award is dedicated to identifying and honoring individuals who have demonstrated extraordinary, lasting, and far-reaching contributions to sustainability, and who have greatly influenced policy and industry response to critical environmental challenges in the United States.
"It would be impossible to overstate Rick's impact on the worldwide acceptance of sustainability within the built environment," said Michael J. Hanley, president of the Hanley Foundation. "His tireless efforts have inspired billions of LEED-certified square feet around the globe and we are thrilled to present him with this year's Hanley Award in recognition of his role as leader, educator, spokesperson and transformational advocate."
Fedrizzi was selected from this year's slate of nominees that included Janine Benyus (Biomimicry Institute), Kevin Kampschroer (US General Services Administration), Mary Ann Lazarus (MALeco, LLC), Vivian Loftness (Carnegie Mellon University), and Jason McLennan (McLennan Design).
Previous Hanley Award recipients are architect and environmental advocate Edward Mazria, who founded Architecture 2030, Alex Wilson, who founded and leads BuildingGreen LLC, Sam Rashkin, creator of Energy Star for Homes, the first national residential energy rating system in the country, Dennis Creech, Co-founder and Executive Director of Southface, Bob Berkebile, Principal of BNIM and Gail Vittori, co-director of the Center for Maximum Potential Building Systems.
"I'm deeply humbled to be included in this world-class roster of leaders," said Fedrizzi. "Since the beginning, the Hanley Wood organization has provided the platform from which the green building movement has been able to grow. Mike Hanley's personal leadership has been visible across the movement, and we are all grateful."
The Hanley Award judges this year were Michael J. Hanley, President of the Hanley Foundation and creator of The Hanley Award; Frank Anton, Vice Chairman of Hanley Wood; Gail Vittori, Co-founder of the Center for Maximum Potential Building Systems and 2015 Hanley Award recipient, Allison Ewing, Principal of Hays + Ewing Design Studio, and John McManus, Editorial Director of Hanley Wood Media.
The Hanley Award for Vision and Leadership in Sustainability will be presented to the winner on October 4, 2016 during the International Greenbuild Conference and Expo in Los Angeles.
About USGBC
The U.S. Green Building Council (USGBC) is committed to a prosperous, healthy and sustainable future through its LEED green building certification program, robust educational offerings, nationwide network of local members, the annual Greenbuild International Conference & Expo, and advocacy in support of public policy that support cost-efficient and energy-saving green buildings and communities. USGBC serves a diverse marketplace and its LEED green building program is the foremost program for green building in the world – saving money for families, businesses and taxpayers, reducing carbon emissions, and contributing to a healthier environment.
About The Hanley Foundation
The Hanley Foundation is a non-profit foundation created in 1999 by Michael and Kathryn Hanley that provides support for organizations working in the areas of affordable housing, environmental awareness, and community services. The Washington, DC-based foundation supports local entities helping to provide shelter, like Friendship Place in Washington, D.C. and the Boys and Girls Clubs of Greater Washington, and environmental organizations like the Chesapeake Bay Foundation. The Hanley Awards were created to recognize and honor significant and lasting contributions to advancing sustainability in the built environment. The Hanley Award for Vision and Leadership in Sustainability, now in its seventh year, was established in 2009.
About Hanley Wood
Hanley Wood is the premier company serving the information, media, and marketing needs of the residential, commercial design and construction industry. Utilizing the largest analytics and editorial-driven Construction Industry Database, the company provides business intelligence and data-driven services. The company produces award-winning media, high profile executive events, and strategic marketing solutions. To learn more, visit hanleywood.com.
Contact:
Irina Woelfle
IWPR Group
irina(at)iwprgroup.com
203-570-6770