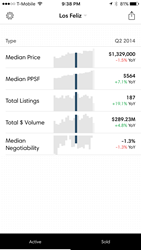 Compass Markets will change the entire industry for the better; it's a perfect example of technology empowering people.
New York, NY (PRWEB) July 20, 2016
Compass, a technology-driven real estate platform, announces the national launch of its proprietary real-time residential market report that puts up-to- the-minute insights and comparative housing analytics into the hands of agents and consumers with a mobile app.
Unlike traditional quarterly market reports, "Compass Markets" eliminates the industry-wide data reporting problem by offering statistical data that updates anytime, anywhere. The app first launched to great success with metrics for New York, and will now include insights for Washington DC, Boston, Miami, Los Angeles, and Santa Barbara/ Montecito regions.
"Compass Markets offers a moving picture of current market conditions in Compass markets nationwide and is designed to replace stale quarterly reports reflecting past market conditions," said Ori Allon, Compass Co-founder & Executive Chairman. "With Compass Markets now available in more places, consumers and their agents can work together to make better, more informed real estate decisions."
Developed by Compass's team of 50+ in-house engineers, "Compass Markets" allows consumers to customize market searches by neighborhood, housing type, number of bedrooms, and price range. Year-over- year analysis, complete with live graphs, is available in a number of categories including median price, median price-per- square-foot, total listings, total dollar volume, days on market, and negotiability.
Another custom feature allows real estate agents on-the- go to create market reports based on their clients' wish lists, produce them in PDF form, and share them with the press of a button via email. This additional feature eliminates the need for agents and consumers to carry around hard copies of outdated information from one showing to the next.
"Until this point, real estate data reporting has been messy, convoluted, and outdated. Compass Markets will change the entire industry for the better; it's a perfect example of technology empowering people. Though revolutionary, this app is not going to replace real estate agents, it's going to make real estate agents better, smarter, and more efficient – and it's better for the consumer," added Compass President Leonard Steinberg, whose team was recently ranked as the #1 top-producing team in the country according to REAL Trends/ The Wall Street Journal.
The "Compass Markets" app for iOS is one of many significant developments led by Compass. The company has quickly grown its offering of proprietary tools that it provides to its agents to help them value and market properties for clients. In total, Compass has raised $135 million in investor funding, more than any other residential brokerage in the country, from key investors including Institutional Venture Partners, Thrive Capital, Founders Fund, 406 Ventures, Advance Publications, Inc., Kenneth Chenault, CEO of American Express and Marc Benioff, Founder and CEO of Salesforce.com.
Compass was launched in 2013 by Allon, who sold two previous companies to Google and Twitter, and business partner Robert Reffkin, a former Chief of Staff to Goldman Sachs' President & COO. The Company began its national expansion last year, opening offices in Washington, D.C., Miami, Boston, the Hamptons, Los Angeles, and Aspen.
Click here to watch a video on how Compass Markets works or download the Compass Markets App.
About Compass:
Compass is a luxury real estate platform with best-in- class technology dedicated to creating a seamless and intelligent home buying, selling, and renting experience. Combining the country's top agents, proprietary market insights, and integrated mobile and web technologies, Compass is developing the future of real estate decision-making. Compass has more than 1,000 top engineers, marketing experts, business professionals, and agents across locations in New York City, Washington DC, Boston, Cambridge, Miami, Los Angeles, Malibu, Santa Barbara, Aspen, and the Hamptons, and has raised $135 million in investor capital. For more information on Compass, and to view more than $5 billion in exclusive Compass properties, visit http://www.compass.com