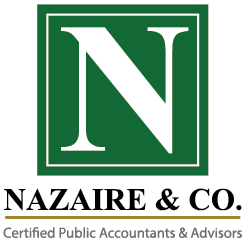 Helping you invest in your success
Garden City, NY (PRWEB) July 21, 2016
Paying bills on time is an important aspect of taking control of one's financial life. There are several benefits that go along with remaining punctual with monthly bills. Paying them on time can reduce stress, save money, boost your credit score and raise the likelihood of being approved for lower-interest rate credit in the future.
1. Organization is a key factor when it comes to paying bills. When utilizing either digital bills or paper bills it is important to keep them all in order and in one place. It can be as simple as an accordion folder, or in a spreadsheet on a computer. Nazaire & Co. recommends organizing bills in the order that they need to be paid. Bills will likely be due at different times throughout the month, thus arranging them this way will help maintain organization.
2. Most regularly recurring bills provide the option of automatic payments. Simply link a debit card to the bill provider and the payments can be made each month. The only further action required for this method is assuring there is a high enough balance in the linked bank account each month to cover the payment.
3. Remembering the day a bill is due is important. Setting reminders can prove to be a beneficial way to pay a bill on time. Nazaire & Co. suggests using a paper calendar or setting electronic reminders for bills and any other financial obligations in order to keep track of due dates.
4. If reminders do not work, it is always an option to pay bills early. This way, you won't be burdened with remembering to send a payment. This eliminates any potential penalties and the possibility of late or missed payments. This also provides breathing room should anything go wrong with a payment.
5. Adjusting due dates to fit a preferred schedule may prove to be a useful tactic in bill paying. Many companies provide the option of picking a specific due date. Some people may prefer to have all bills due on the same day, while others might prefer to space them out. Different methods work for different people.
Individuals looking for additional information regarding advice on paying bills on time are encouraged to visit the Nazaire & Co. blog at Nazaire.com/blog
Nazaire & Co. is a full service Accounting & Consulting firm geared toward the needs of small to medium size businesses and individual clients. Integrity, innovation, industry expertise, and an on-going commitment to quality are the core values that guide us in our business.