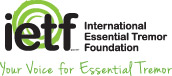 Overland Park, KS (PRWEB) July 21, 2016
The International Essential Tremor Foundation (IETF) will fund three essential tremor (ET) research grants totaling nearly $75,000 this year. Grant funding is provided to the IETF from its donors, people directly affected by this life-altering condition.
The IETF will award $24,980 to the study entitled "Double-blind, Placebo-control, Cross-over Trial of Cannabidiol for Essential Tremor". This study will investigate a specific cannabinoid (CBD), one of the many chemicals, in marijuana. The central hypothesis is CBD will reduce tremor amplitude while being well tolerated and safe for patients. Dr. Fatta Nahab's hypothesis has been formulated on the basis of his team's own preliminary data and in consultation with Dr. Adrian Handforth's group, which is actively studying cannabinoids in the Harmaline model of ET. Dr. Handforth's research was funded by an IETF research grant in 2015. Results obtained from this study will provide the critical knowledge needed in order to request additional funding from the National Institutes of Health (NIH) for a drug development program of CBD for ET and develop more targeted medications. The study will be conducted by Dr. Fatta Nahab at the University of California in San Diego.
The second study, to be awarded $24,200 from the IETF, is "Application of Smartphones/Smartwatches in Diagnosis and Treatment Monitoring of Essential Tremor." The aim of this proposal is to test a variety of smartphones/smartwatches, to see if they can accurately measure tremor in ET patients and assist in their treatment. Smartphones are available to most people and could provide short-term tremor measurements. Smartwatches could be used for long-term tremor measurement. It is well known tremor intensity fluctuates from day to day and during the day. Therefore, accurate self-monitoring of tremor might be helpful to physicians assessing treatment options and effects. This study will be conducted by Prof. Gregor Kuhlenbäumer at Kiel University in Germany.
The final study, "Norepinephrine's Effects on the Cerebellum and Role in Tremor" will be awarded $25,000. This study will be conducted by Dr. Esther Krook-Magnuson at the University of Minnesota in Minneapolis. Propranolol is a beta-blocker and is the most widely used medication for the treatment of essential tremor. Dr. Krook-Magnuson believes propranolol's actions are centrally located, working on a region of the brain known as the cerebellum, and slowing the amount of norepinephrine released. The findings from this proposal would resolve the controversy surrounding propranolol's location of action in the brain and provide new options to help reduce tremor.
Essential tremor is a neurological condition affecting more than 10 million Americans. ET causes rhythmic shaking of the hands, head, and voice. ET is often misdiagnosed as Parkinson's disease, although eight times more common. ET is characterized by action tremor, making everyday tasks such as eating, drinking, and writing difficult if not impossible. There is currently no cure for this life-altering condition.
About The International Essential Tremor Foundation:
Headquartered in Lenexa, KS, and founded in 1988, the International Essential Tremor Foundation is the leading organization in the world dedicated to those affected by essential tremor. The mission of the International Essential Tremor Foundation (IETF) is to provide global educational information, services and support to children and adults challenged by essential tremor (ET), to their families and health care providers, as well as to promote and fund ET research.
The IETF has distributed over $1 million in research grants, to fund numerous promising studies, in the search for the cause of ET. The Foundation has hosted numerous community awareness events across the U.S. to provide those affected with the basic knowledge necessary to become their own advocate when seeking treatment. And, the IETF also provides assistance to a vast network of support groups around the world. To learn more about essential tremor and the IETF mission, visit the IETF website at http://www.essentialtremor.org.