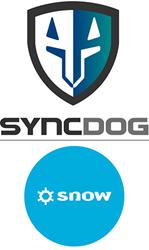 We are excited that Snow has chosen to work with SyncDog to bring DLP to mobile...
Reston, VA (PRWEB) July 21, 2016
SyncDog, Inc., a leading ISV for mobile security using a containerized application workspace, today announced a technology agreement with Snow Software. Snow Software, based in Stockholm, Sweden, is a global leader in Software Asset Management (SAM) software. As part of their global solution portfolio, Snow Device Manager, now equipped with SentinelSecure™, strengthens its position as EMM provider capable of handling the complete lifecycle of mobile devices.
Snow has been working with SyncDog to identify the market opportunity to integrate Data Loss Prevention (DLP) software functionality into EMM to enhance control and protection of enterprise data on mobile devices. Additionally, moving forward, Snow and SyncDog will continue to identify additional opportunities for further integration of other products within their respective portfolios which address an evolving market for managing and securing mobile infrastructures.
"Snow has become a global player in EMM with its Snow Device Manager Solution," said Jonas Gyllensvaan, SyncDog president and CEO. "We are excited that Snow has chosen to work with SyncDog to bring DLP to mobile and provide their enterprise customers with a higher level of protection for their data and IP."
The SentinelSecure™ containerized workspace provides a secure data platform that encrypts and transports data between the enterprise and secure, "sandboxed" applications running on employees' mobile devices. The workspace protects client enterprise networks by securing data both at rest in transit using FIPS 140-2 validation and AES 256-bit encryption.
"SentinelSecure™ provides an ultra-secure infrastructure for applications and enterprise data on the mobile device," said Alan Giles, Snow's manager of Mobility Business Unit. "Integrating SentinelSecure™ with Snow Device Manager has helped build out a more complete solution for our EMM customers. PIM, file management and custom application data can all be centrally managed and secured by these two platforms now working tightly together."
Snow Device Manager delivers a full Enterprise Mobility Management (EMM) platform, comprised of device management functionality alongside content management and application management functions. By adding the uniquely flexible offering of an industry-leading containerized workspace, Snow Software now boasts a full suite of mobility solutions, matching individual user requirements with flexible technology solutions within one platform. Add to the mix other Snow capabilities that includes best-in-class SAM-functionality capable of managing mobile applications and hardware, and Snow becomes the obvious choice for organizations that are concerned about mobility from a usage, security and compliance point of view.
About SyncDog, Inc.
SyncDog is the leading independent software vendor (ISV) for building secure infrastructure frameworks that protect enterprise networks from cyber breach from mobile computing sources. The SentinelSecure™ product for application containerization and IoT (Internet of Things) module monitoring provides the industry's most proactive approach to securing enterprise mobility computing.
The SentinelSecure™ data security solution delivers defense-grade (FIPS 140-2, AES 256-bit) secure mobile device partitions or "containers" that can secure emails/contacts, calendar items, IM apps, Internet browsers, mobile file stores and other business apps provisioned on personal devices to be used in a BYOD or COPE (corporate owned personally enabled) setting.
For more information on SyncDog SentinelSecure™, please visit http://www.syncdog.com.
About Snow Software
By managing software in use across the organization, Snow creates tangible savings and releases budgets, giving enterprises around the world the confidence to invest in new technologies such as virtualization, cloud and mobile.
Snow provides C-level executives, software managers and procurement professionals actionable intelligence on software installs, usage and entitlements across all platforms – from mobile to desktop, datacenter to cloud – saving up to 30 percent of software spend in year one.
Some call it Software Asset Management, Enterprise Mobility Management, Unified Device Management or even just license compliance. Like thousands of organizations around the world, we call it Snow.