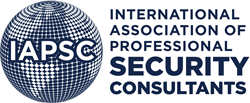 Success with your security project starts with the security RFP
San Francisco, CA (PRWEB) July 21, 2016
The International Association of Professional Security Consultants (IAPSC) is offering new resources to help organizations become more effective at creating and distributing security requests for proposals (RFPs).
"Success with your security project starts with the security RFP. Too often, organizations fail to ask the right questions or fail to distribute the RFP broadly to qualified professionals," said Harold Gillens, PSP, CFC, CHS-III, President of IAPSC. "As the leading association for professional security consultants, we saw the need to make this process easier and more productive."
IAPSC has improved the security RFP process by creating guidelines, templates and a distribution tool for security project RFPs. Found at http://www.iapsc.org/rfp, the new information and tools make it easier for organizations to successfully navigate the security RFP process.
"The better your RFP and its distribution, the more high quality security proposals you will receive in return," said Frank Piscotta, CSC, Past President of IAPSC. "This not only saves time, but it also creates a road map for the successful implementation of the security project."
Common problems with security RFPs occur in two areas. First, the organization issuing the RFP doesn't provide enough details about itself, the project, and the unique challenges. Secondly, the RFP is sent only to a small group of consultants and/or companies, many of whom may not be not highly qualified security professionals. IAPSC's security RFP resources and distribution tool solve both problems.
"These security RFP resources are provided as a public service, and are a natural extension of the association's mission. IAPSC was founded in 1984 precisely because of the need for an independent security consultant - someone who is not affiliated with any product or service they may recommend," said Kerry Parker, CAE, IAPSC Executive Director. "This new service lets organizations distribute their security RFP broadly to security professionals who maintain the highest industry standards for professionalism and ethical conduct."
The security RFP resources and distribution service are available at no charge and can be found at https://iapsc.org/rfp.