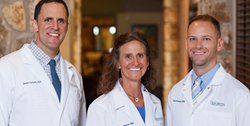 Austin, TX (PRWEB) July 20, 2016
Individuals with failing or missing teeth in Austin, TX can now schedule an appointment to replace a full arch of teeth with immediate load dental implants with Drs. Tana Busch, Jason Carlyon and Kevin Deutsch, without first receiving a referral. Dr. Busch, an authority in her field, and the entire 8118 Dental Professionals team, have always been on the forefront of new developments in dentistry and strive to deliver a full array of quality dental services to their patients in a comfortable setting, including implant dentistry. Often compared to All-on-4®, full arch replacements using immediate load implants is a procedure many patients prefer because it is an affordable and comfortable way to replace an entire row of teeth with a customized prosthetic bridge.
The American Academy of Implant Dentistry estimates that over 30 million Americans are missing a full arch of teeth in their upper or lower jaws. Many others suffer with cracked, broken or failing teeth that require removal. Of the tooth replacement solutions available, the only procedure that offers a long-term, natural feel, function and look, are dental implants. Unlike single implants which can become expensive when used to replace multiple teeth, the advanced tooth replacement method used by 8118 Dental Professionals is commonly offered to replace one or more full arches while utilizing only four or more strategically-placed implants in each arch. In choosing this immediate load tooth replacement method, patients can receive an entirely new set of permanent teeth within a single day.
In order to provide patients with the latest techniques and technology available, the team at 8118 Dental Professionals utilize the Galileos Cone Beam 3D X-ray CT scanner with each implant case. This technology captures hundreds of 3D images of the face and jaw to carefully create treatment plans, prepare for implant procedures and precisely determine the most effective location for implant placement. Using this technology, Drs. Busch, Carlyon and Deutsch are able to provide highly individualized care for improved health and quality of life.
To further stay on the cutting-edge of implant technology, Dr. Busch recently attended a Guided Full Arch Immediate Implant Reconstruction course at the revered Pikos Institute. This course provided a more in-depth look at the advantages of Same Day Teeth® and All-on-4® procedures. She attended this course in order to provide this valuable service to her patients not only to restore their function, health and smile, but also so that 8118 Dental Professionals could offer a lifetime of ongoing care to every patient in one place.
Those with multiple failing or missing teeth interested in replacing a full row of teeth with four or more dental implants in Austin, TX, can visit the 8118 Dental Professionals website to learn more, or call (512) 872-3658 to schedule an appointment with Drs. Busch, Carlyon or Deutsch.
About the Practice
8118 Dental Professionals is a general dental practice that has been providing personalized, compassionate dental care to patients in Austin, TX for almost 40 years. Drs. Tana Busch, Jason Carlyon and Kevin Deutsch offer a variety of quality dental services including cosmetic dentistry, dental implants, oral surgery and prosthodontics and strive to always be on the cutting-edge of their field. The 8118 Dental Professionals team is dedicated to treating the entire well-being of their patients for long-term solutions and see their patients as their extended family. To learn more about Drs. Busch, Carlyon or Deutsch or the services they offer at their state-of-the-art office, please visit their website at http://www.8118dental.com or call (512) 872-3658 to schedule an appointment.