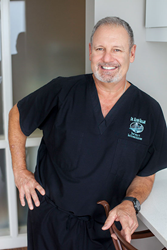 Mount Pleasant, SC (PRWEB) July 20, 2016
Dr. Kevin Hogan recently acquired the VaTech PaX i3D Green Cone Beam CT at his practice to enhance the accuracy of procedures such as dental implants and the comfort of his patients. Dr. Hogan is an esteemed dentist in Mt. Pleasant, SC, who strives to stay on the forefront of dental technology. This cutting-edge dental imaging system allows Dr. Hogan to capture precise 3D images and offer successful treatment results without exposing patients to high doses of radiation.
The VaTech PaX i3D Green CBCT is a rapid scan CT, which means patients do not have to remain still for long periods of time while the machine works, it only requires less than six seconds for each scan. Any motion the technology does detect is minimized to help improve picture quality, avoiding the necessity of multiple scans. As an experienced dentist in Mt. Pleasant, SC, Dr. Hogan recognizes that these qualities are immensely beneficial to patients. Some patients may be anxious or nervous about their time at the dentist, and offering quick, effective imaging can not only increase the success of the procedure, but help simplify the process and make them feel more relaxed.
One of the reasons Dr. Hogan chose this 3D green imaging technology is because it emits a lower dose of radiation than other imagers. In the past, some patients may have had to choose forgoing care due to issues with excess radiation from X-rays. Even though the scan is done with less radiation, it still produces a superior image. This allows Dr. Hogan to plan precise, individualized procedures for each of his patients, whether he is using the image to aid in placing dental implants or a full mouth reconstruction.
As a dentist in Mt. Pleasant, SC, Dr. Hogan has learned that the most advanced technology is necessary for superior patient care. Patients who would like to learn more about how Dr. Hogan uses the VaTech PaX i3D Green CBCT to further improve dental implant treatment are invited to contact his office at (843) 216-0908 to schedule an appointment.
About the Doctor
Dr. Kevin Hogan is a general dentist providing individualized care for patients in Mount Pleasant, SC. Dr. Hogan is a graduate of the Indiana University School of Dentistry and has completed hundreds of hours of continuing education courses to stay contemporary with the latest dental technologies. In addition, he has also completed coursework with the Dental Organization for Conscious Sedation and has lectured at the University of North Carolina, Emory University, the Saginaw Valley University and AUA-American University of Antigua on head and neck anatomy and oral pathology. Dr. Hogan is a member of the American Dental Association, International College of Cranio-Mandibular Orthopedics, Academy of Laser Dentistry, International Association of Physiologic Aesthetics, Institute for Advanced Laser Dentistry, DOCS (the Dental Organization for Conscious Sedation), International Congress of Oral Implantologists and the South Carolina Dental Association. He is also a past member of the American Straight Wire Orthodontic Association, Maxillofacial Orthopedic Growth and Development, the American Academy of Pediatric Dentistry and the Functional Orthodontic Society. He and his team are dedicated to providing exceptional oral care to patients through personalized treatment plans. To learn more about the services offered by Dr. Hogan, please visit his website at http://www.smilesbyhogan.com or call (843) 639-5044.