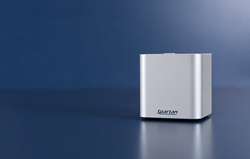 We need to collaborate as a medical industry in order to progress research and advance treatment of complex diseases such as Alzheimer's disease. - Paul Lem, M.D., CEO
OTTAWA, Canada (PRWEB) July 25, 2016
Spartan Bioscience today announced the first rapid Apolipoprotein E (APOE) genetic test to identify mutations associated with increased risk of late-onset Alzheimer's disease. The Spartan Cube test provides results in 30 minutes from a patient-friendly non-invasive cheek swab.
The Spartan Cube, the world's smallest DNA-testing device, is the fastest way to identify potential individuals for research studies based on their genetics. One-in-four people carry APOE genetic mutations that increase the risk of developing Alzheimer's.(1) These genetic carriers can be ideal candidates for research, and the Cube can accelerate the identification of these individuals. For example, the Spartan Cube enables testing in doctors' offices, walk-in clinics or even nursing homes.
Alzheimer's disease affects more than five million patients in the United States.(3) With an aging baby boomer population, this number will increase significantly, barring a medical breakthrough in treatment or prevention. By 2050, the number of people age 65 and older with Alzheimer's disease may nearly triple from 5.2 million to 13.8 million in the United States alone.(4)
Spartan can be a valuable partner in developing resource pools for research taking place on Alzheimer's disease. Spartan can also assist in overcoming this difficulty that researchers face when selecting individuals for this activity based on their genetic makeup. Spartan can streamline the process for researchers by identifying and creating these resource pools of potentially great candidates and make a difference by assisting in resource development.
Paul Lem, M.D., CEO of Spartan Bioscience says Spartan wants to partner with doctors and researchers conducting research for Alzheimer's disease.
"We need to collaborate as a medical industry in order to progress research and advance treatment of complex diseases such as Alzheimer's disease," says Dr. Lem. "The Spartan Cube is a portable and convenient DNA-testing device that can help streamline genetic identification."
Spartan Bioscience is showcasing the Spartan Cube at the Alzheimer's Association International Conference (AAIC) from July 24-27, 2016 at the Metro Toronto Convention Centre in Toronto, Canada.
For more information about the Spartan Cube, visit http://www.spartanbio.com.
About Spartan Bioscience: Spartan Bioscience's mission is to bring the power of DNA testing to everyone. Spartan's molecular diagnostics platform fully integrates DNA collection, extraction, and analysis in a device that fits in the palm of your hand. Spartan's sample-to-result technology enables unprecedented portability and convenience in applications such as infectious disease, pharmacogenetics, and food and water safety testing.
1. NIH Office of Science Education. (2009). Alzheimer's disease and genetic testing: Relevant facts. Retrieved from https://science.education.nih.gov/supplements/nih9/bioethics/guide/pdf/Master_4-2.pdf
2. Petersen RC et al. (2005). New England Journal of Medicine. 352(23):2379-2388.
3. National Institute on Aging. About Alzheimer's disease: Alzheimer's basics. Retrieved from https://www.nia.nih.gov/alzheimers/topics/alzheimers-basics
4. Alzheimer's Association. (2016). Alzheimer's disease facts and figures. Retrieved from http://www.alz.org/facts/
5. Cummings JL. (2014). Alzheimer's Research & Therapy. 6(4):37.
Note: The Spartan Cube is for research use only. Not for use in diagnostic procedures.