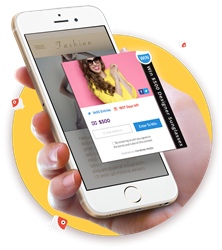 Our first drawing pulled over 14,000 opt-in email addresses inside of 30 days!
Chicago, Illinois (PRWEB) July 26, 2016
Fishbowl Prizes today announces the introduction of a new marketing/promotion app. This site embedded platform is designed to gather qualified consumer email addresses, as well as create a worldwide online community. Retailers can now gather opt-in email addresses from users across shopping demographics, expanding their reach and capturing potential customers.
Fishbowl Prizes models itself after the classic retail concept of "drop your business card in the fishbowl." Adapted for online business, websites utilize a virtual 'fishbowl' widget to gather consumer email addresses through simple giveaways.
Businesses from across the web are then linked by the platform's social media-inspired Marketplace. Once a Fishbowl drawing goes live, the merchant's giveaway is showcased in the Fishbowl Prizes Marketplace. The Marketplace allows consumers to find new businesses across the web and register for as many prize drawings as they desire.
Consumers can also share and repost the giveaway through social media to increase their chances to win, allowing contests to go viral while merchants collect even more valuable opt-in email addresses. This viral cross-marketing allows merchants to grow their email lists at an exponential rate while targeting specific consumers.
Fishbowl Prizes works on all web platforms and is currently available to merchants thru the company's website, fishbowl prizes.com. Fishbowl easily integrates with MailChimp to keep your email lists synced, allowing merchants to be instantly responsive when coordinated with automated real-time campaigns. The Fishbowl Prizes app can also be found in the Magento, Shopify, Weebly, and BigCommerce app stores.
Drew Beeson, Marketing Director of Dean Zelinsky Guitars says, "Fishbowl Prizes has been an incredible marketing tool. Our first drawing pulled over 14,000 opt-in email addresses inside of 30 days. We combined a recent Fishbowl giveaway with a Facebook campaign using a highly targeted look-a-like list and collected 11,000 valuable email addresses within two weeks. We then use Fishbowl's MailChimp Integration and quickly convert these new leads into sales, drastically boosting our ROI.
Beeson summed it up with these words: "It costs a lot of money to get people to come to your website. And if they leave without converting, all you can do is spend more money retargeting them or finding new potential customers. We capture those leads with Fishbowl, instantly send them an email offer and convert many… This is where Fishbowl Prizes excels and clearly outperforms other platforms on the market."