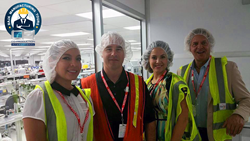 "Attendees will finish the tour with a deeper understanding of what it takes to make what they've read about nearshoring, a reality"
San Diego, California (PRWEB) July 21, 2016
While manufacturing in Mexico isn't new, CPI offers this tour, as well as customized agendas for manufacturers seeking a first-hand experience of the quality labor force, cost savings and potential of the United States' southern neighbor. Mexico is a manufacturing powerhouse and the time has never been more right.
Offering a comprehensive agenda that covers every facet of a potential manufacturing expansion into Mexico, CPI's goal is to elaborate the details of nearshore operations. For executives seeking to improve their bottom line while maintaining quality, oversight and productivity. "Attendees will finish the tour with a deeper understanding of what it takes to make what they've read about nearshoring, a reality," says Denisse Martinez, Marketing Director at CPI.
Beginning in Tijuana, attendees will get a chance to not only see high-end production activities first-hand, but also have a candid question and answer opportunity with the plant's managers. Past attendees have relished in the access to the real-world experience of nearshore operation managers and executives.
Several visits to industrial parks will be made to show the quality and types of industrial real estate sites and infrastructure availability. After learning all there is to know about nearshore site selection, it's on to visit another plant which highlights how diverse and dynamic manufacturing activities are in the region. This is where attendees get a true understanding of the highly- educated and technically-trained Mexican workforce available to them.
The last plant tour takes place in Tecate, rounding out the diversity of the entire border region. With a presentation by the plant manager, attendees will learn about the ins and outs of starting up a successful operation in Mexico. To wrap up the tour, attendees are treated to a dinner showcasing the region's Baja Mediterranean cuisine and award winning wines from the now famous Guadalupe Valley.
Manufacturers interested in attending the July 28th kick off tour should reserve their space today as space is limited! CPI's Summer of Nearshoring is just getting started with customizable agendas and flexible dates available for those unable to attend this month. Contact us today to reserve your spot. Tours are sponsored by Co-Production International Education Division.
About Co-Production International: Specialist in establishing manufacturing operations in Mexico. As an administrative services provider CPI offers maquiladora shelter programs, day-to-day administrative services, site selection, and the complete set-up of your operation in Mexico. For more information, or if you are interested in a cost analysis for expanding your operations to Mexico, visit http://www.co-production.net or call (619) 429 4344.