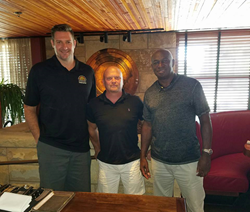 Phoenix, AZ (PRWEB) July 20, 2016
Pro Player Health Alliance (PPHA) CEO David Gergen, Cardinals Legend Roy Green and Matt Fish, Phoenix Chapter President of the NBRPA met in Phoenix, AZ today to discuss health improvement plans for retired NBA players. The plans will include health evaluations and incorporating testing/treatment for sleep disordered breathing into overall health evaluation programs. Upcoming meetings are already scheduled in the NBRPA, meaning PPHA will select a dentist to oversee the dental sleep medicine portion of the screenings in the coming months. With the first health evaluation for retired NBA players being located in Phoenix, AZ, PPHA will be reviewing Arizona dentists who are Diplomates in the American Sleep and Breathing Academy.
In collaboration with PPHA, the chosen dentist will have the opportunity to treat former NBA players for obstructive sleep apnea with oral appliance therapy when medically indicated and after being properly tested for the sleeping disorder according to state guidelines. The dentist that is selected will also be featured in the official magazine of the retired NBA, "Rebound Magazine" and the official magazine of the American Sleep and Breathing Academy, "Sleep and Wellness Magazine". Rebound Magazine reaches over 250,000 elite readers and grows each issue. Readers include Current and Former NBA, WNBA, ABA, Harlem Globetrotter players, NBA and team executives, NBA team owners and NBA Season Ticket Holders.
ABOUT PRO PLAYER HEALTH ALLIANCE
Pro Player Health Alliance (PPHA) is an organization dedicated to helping former NFL players, through providing testing and treatment options for those who suffer from sleep apnea. Since launching in April 2012, over 160 players have been treated through PPHA's "Tackle Sleep Apnea" campaign. Also, the PPHA is dedicated to integrating education and raising sleep apnea awareness, in a fun and memorable way. In addition to the campaign, PPHA is dedicated to testing and getting people who suffer from sleep apnea treated.
ABOUT MATT FISH
Matt Fish is a former NBA athlete and currently the President of the NBRPA, Phoenix Chapter. He has won numerous awards throughout his college and professional careers and was drafted into the NBA in 1992 by the Golden State Warriors. Over a ten-year pro career, Fish played for the Los Angeles Clippers, Miami Heat, Washington Bullets, New York Knicks and the Denver Nuggets. Upon ending his professional basketball career, he served as the original Character Coach for Patterson Sports Ventures, taught life-skills in a self-contained Special Education environment, earned dual masters degrees, one in education and the other in business administration. Matt enjoys public speaking, playing the piano and spending time with his family.