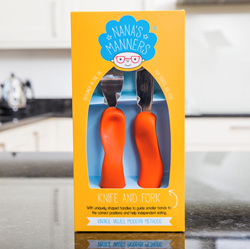 When your child sits at the table to eat, they need to feel empowered and independent. Children should feel they are learning this skill all by themselves. No adult help needed.
London, UK (PRWEB) July 21, 2016
Nana's Manners, is revolutionizing children's cutlery. The inspiration of Kathryn Baldrey-Chourio (mother and teacher), the company is making learning to use a knife & fork enjoyable for little hands.
The handles on Nana's Manners cutlery are ergonomically designed for children while colorful stickers independently guide little fingers. The patented tri-grip design supports fine motor skill development, teaching school aged children a key life skill. Nana's Manners cutlery aids growing children, making mealtimes easy and stress free and are made from quality stainless steel and BPA free handles.
Kathryn taught 4-11 year olds in Primary Schools in the U.K. for 10 years. While teaching, she was overwhelmed to see the difficulties that almost all 4-5 year olds had in using a knife and fork. 
"I had struggled in teaching my own child to use a knife and fork independently and confidently, but had not considered the widespread difficulty children have in learning this skill," says Baldrey-Chourio, "Children learn so many life, language and social skills during their early years. They have learning aids for so many aspects of their development and growth. I watched many young children struggle at mealtimes. My inspiration came when I stopped and really looked at the cutlery available to children. I realized there was one key learning aid being overlooked that would make such a difference in so many children's day-to-day lives."
It's become a ritual for parents and teachers to cut up food for children. This is necessary for toddlers and there is an abundance of cutlery aimed squarely at that market. Nana's Manners is the natural evolution in cutlery. The British have a reputation of historical values of etiquette, in which table manners are highly valued. The Queen's butler himself is quoted on the horror of witnessing people eating holding their knife and fork incorrectly.
Kathryn's journey started with her using children's modeling clay to mould the ergonomic handle shape. Three years down the line, after much research, testing and development, she now has a final patented prototype and has begun the tooling process with a manufacturer.
A Nana's Manners knife and fork comes with a special set of stickers. Kids can match the stickers on their index finger nails to the ones on the respective 2 points of the cutlery. A sticker sheet will be included in each cutlery box to help kids in the first few times they use the cutlery. After a few meals using the stickers, the kids begin to master the proper grip in no time.
"When your child sits at the table to eat, they need to feel empowered and independent. Children should feel they are learning this skill all by themselves. No adult help needed," adds Baldrey-Chourio.
Nana's Manners is currently live and available to support on Indiegogo: http://www.igg.me/at/nanasmanners/x
Customers can pre-order first edition sets and receive a 20% discount on the price at which they will be sold at retail. Supporters also receive a free set of "Conversation Cards". These cards each contain an imaginative question, a fun way to create engaging table talk for little ones and grown ups too.
About Nana's Manners
Nana's Manners is the vision of Kathryn Baldrey-Chourio, a mother of two who worked as a Primary School teacher for 10 years. In both roles, she has often realized the benefit of seeing the world through a child's eyes. Giving kids the equipment they need to succeed can make life so much less stressful for parents, teachers and of course, the kids themselves. Children need the tools to help them confidently be part of the world around them.
For more information on Nana's Manners please visit http://www.nanasmanners.com
###