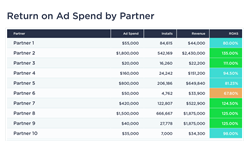 TUNE is a world-class technology provider, and we couldn't be happier to now have Multiverse as part of the TUNE suite of services. - Bryan Nisperos, Director of User Acquisition at Napster/Rhapsody International.
Seattle, WA (PRWEB) July 21, 2016
TUNE (http://www.tune.com), the leader in mobile marketing technology, announced today the launch of a stand alone product, Multiverse. Designed to help marketers quickly determine return on ad spend across all their channels in one platform, the product is already integrated with over 100 advertising partners. During the public beta, TUNE Marketing Console customers that use the Attribution Analytics product will have complete and free access, and in the months following, marketers using other attribution providers will also be able to aggregate their data for free. To learn more, go to Multiverse.com.
"We definitely saw how much marketers love the simplified reporting you can get from Singular and we knew we could do it better," said Peter Hamilton, the CEO of TUNE. "Marketers are faced with the choice of logging into every platform and combining spreadsheets or paying for something like Singular in order to get the insights they need. We realized that as a big data company, TUNE can provide this type of aggregation at no cost to the marketer, while also providing a more granular and accurate solution for return on ad spend."
Why Multiverse?
Marketers need a simpler way to reconcile the cost of marketing campaigns for the results they're getting from their web and mobile apps. This is unlike other aggregating platforms that use probabilistic methods to match data sets. As the marketing system of record, TUNE is in the unique position to provide more accurate and granular connections between ad partners and attribution providers while maintaining strict adherence to the TUNE data pledge. With Multiverse, marketers have direct and free access to the return on ad spend, built from rich first party data that they already have through TUNE.
"TUNE is a world-class technology provider, and we couldn't be happier to now have Multiverse as part of the TUNE suite of services," said Bryan Nisperos, Director of User Acquisition at Napster/Rhapsody International. "We use TUNE Marketing Console as our attribution and mobile acquisition platform, so it made perfect sense for us to work with them in beta to ensure that Multiverse enhances our ability to measure ROAS and consolidate spend data into one source without the hassle of multiple spreadsheets and data look ups. It is an incredible advantage to have it all in one place and for the data to be so accurate."
How Mobile Marketers use Multiverse.
Marketers signup and use the onboarding experience to enter the credentials of the various ad networks and platforms they use for mobile advertising. Once their accounts are synced with Multiverse, the platform will begin ingesting data immediately.
Integrating ad spend data in real time is critical, Multiverse gives marketers by-the-hour insights into their spend with each partner and how that compares to their revenue provided by their attribution analytics data.
"My brother and I love building new products more than anything," said Lucas Brown, Co-Founder of TUNE. "The challenge of measuring ROAS and consolidating spend data into one source was extremely interesting, because it made us consider the strengths that TUNE already has today and how we could leverage those to create a better way of calculating returns on mobile. We have enjoyed working with so many advertising and marketing partners across the industry to make Multiverse a reality, and I am thankful for the team of engineers we worked with who put in long hours and every ounce of passion. This is just the beginning, and I can't way to go beyond our public beta because we have more insights to launch!"
Clients using Multiverse have the ability to aggregate data from over 100+ of the top data sources such as Google, Twitter, Facebook and more. In addition, integrated ad partners powered by TUNE's HasOffers technology that are also seamlessly supported by Multiverse.
For more information about Multiverse or to sign up for beta, visit Multiverse.com.
About TUNE
TUNE is the leading mobile marketing technology company, with more customers in the top grossing apps, and a complete set of products that combine into one TUNE Marketing Console. TUNE brings together measurement and attribution across paid, owned, and earned media into one unified solution.
Headquartered in Seattle, Washington with over 350 employees in nine offices worldwide, TUNE is the most widely adopted solution to measure mobile marketing performance and is trusted by brands such as Expedia, Sephora, EA, CVS, Subway, New York Times, Line Corporation and more.
For more information, visit ​http://www.tune.com​ or follow us on Twitter, Facebook, LinkedIn, and Instagram.