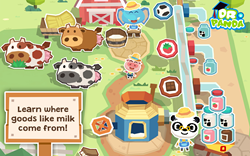 It's never too early to teach your kids about where their food comes from
Chengdu, China (PRWEB) July 22, 2016
Dr. Panda, the award-winning developer behind the popular kids apps, announces the release of their new app Dr. Panda Farm to help bridge kids' connection to where their food comes from in a fun and interactive way. Available to download and play today from the App Store, Google Play and Amazon.
In Dr. Panda Farm, kids can escape to a virtual countryside and learn what it's like to live life as a farmer. They'll be able to learn where local food comes from, what ingredients are needed and how to get them such as the process of making bread.
There are lots of ways to make kids aware of an environment that they may be detached from. Parents and teachers can even use Dr. Panda Farm as a talking point and educate about agriculture through a fun experience that combines play, technology and learning.
"It's never too early to teach your kids about where their food comes from. We hope that Dr. Panda Farm can motivate young kids to go outside and want to learn more about nature and the world around them," said Onno van Duin, Game Concept Developer at Dr. Panda.
Onno also talks about the gameplay in Dr. Panda Farm, "Something we wanted to focus on was getting kids to multitask and sequence their actions through the different activities. We wanted to stimulate the young players to think about what, how and why they're making these farm products."
Dr. Panda Farm is safe and contains no advertisements, inappropriate content or in-app purchases, and is now available worldwide.
About Dr. Panda
Dr. Panda is a developer of games for kids. We create premium quality games to make kids happy and help them learn about the world. Our games are safe and contain no inappropriate content or in-app purchases. To learn more about us, visit drpanda.com.