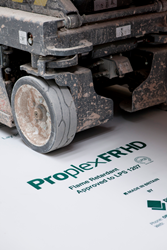 Proplex FR HD provides a sustainable alternative to timber and plywood protection sheets
Sheffield (PRWEB UK) 22 July 2016
Ordinarily, timber products are used to cover the floors on a building site, however these are difficult to cut to size, get damaged by moisture and are crushed and broken by heavy traffic. Proplex FR HD provides a sustainable alternative to timber and plywood, and as the only product of its type to be LPCB approved and meet the requirements of the Joint Code of Practice, it has many benefits:

Won't warp/leech colour when exposed to moisture unlike timber products
Reusable/recyclable and manufactured in a zero waste UK facility
Cost, carbon and resource efficient temporary protection solution
Opaque white colour
Contains post industrial recycled component
Can be custom printed
The sheet is manufactured from a high density 1200gsm Flame Retardant polypropylene and the twinwall structure of the sheet is designed to give the sheet greater compression and impact resistance than the standard Proplex sheets. This means that the sheet will not collapse or crush when it has heavy weight on it, making it just as well suited to heavy vehicular traffic as it is impact from height.
To test this theory, Protec used a 44 tonne articulated lorry to test the strength of the sheet and its exceptional internal structure:
https://www.youtube.com/watch?v=YMTHdRdH04A
Unlike traditional heavy weight timber protection products, Proplex® FR HD is easy to cut on site without creating harmful dust, as well as being lightweight and easy to handle. The versatile nature of the product also means that it is suitable for much more than just flooring:
Walls
Cladding
Glazing
Swimming Pools
Stonework
Walkways
Doors
Under Scissor Lifts
Scaffold Towers
With site safety being a paramount concern, it is difficult to overlook the benefits offered by this product.
Darren Moore, Managing Director of Protec International Ltd, said: "Flame Retardant certificated temporary protection materials are far from being a new concept in construction. Since the first release of the Joint Code of Practice, which is backed by the major insurers, the industry has longed for an approved product that is capable of standing up to everything that a modern construction site can throw at it. To satisfy this demand, we are launching Proplex FR HD, already proven to withstand the heaviest of site traffic."