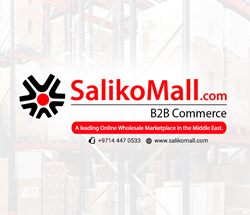 Wholesale Shopping Website in the Middle East, Africa and CIS.
(PRWEB) August 01, 2016
Inter Group (IG) of Dubai, UAE is proud to announce the launch of its new B2B Wholesale E-Commerce website SalikoMall.com. Built on the successful trading history, trade network, and guiding principles of its parent company Inter Group (http://www.ig-intergroup.com), SalikoMall.com's target markets include Africa, Middle East and the Commonwealth of Independent States (C.I.S.)
Since its launch date SalikoMall.com has successfully enrolled a vast number of high quality dependable manufacturers, wholesale traders and suppliers from various countries for various items.

Automobile & Equipment
Commodities
Construction Materials
Electronics
Electricity & Power
Food & Beverages
Furniture
Games & Toys
Garments & Textile
Health & Beauty
Household Products
Medical
Oil & Gas
Sport & Fitness
Stationery
Water & Sewerage
SalikoMall.com highly trained trading staff will vet the quality and reputation of vendors and their products to ensure that buyers are provided with the most suitable and competitive deals.
SalikoMall.com also features a Bargains section. This Bargains section will regularly offer limited time and one off deals of wholesale products available at highly discounted prices across various categories, savings in the Bargains section may be as high as 90% off regular prices.
Other offerings are available to the SalikoMall.com clients across the supply chain to ensure an A to Z holistic service. This includes logistics, insurance, product inspection among others.
For further information, visit us at http://www.SalikoMall.com.