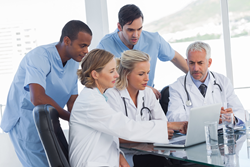 "Coronary artery disease is the most common type of heart disease and the leading cause of death in both men and women in the United States,"
Lansdale, PA (PRWEB) July 21, 2016
Hayes, Inc., a leading provider of unbiased health technology assessments and consulting services, recently released a report comparing the effectiveness of bioresorbable vascular scaffold (BVS) stents versus other drug-eluting stents (DES) for the treatment of coronary artery disease (CAD). Commonly called the "disappearing stent," the BVS stent dissolves into the body after helping to restore blood flow to the heart.
"Coronary artery disease is the most common type of heart disease and the leading cause of death in both men and women in the United States," stated Karen Crotty, PhD, Senior Scientific Officer and Senior Director, Evidence Solutions at Hayes, Inc. "The bioresorbable vascular scaffold stent is cutting-edge technology and our report focuses on the quality of the body of evidence to determine the safety and efficacy of BVS for treatment of patients with coronary artery disease."
The questions addressed within the report are:

How do BVS stents compare with other stent types for reducing death, myocardial infarction, repeat revascularizations, and improving symptoms in patients with CAD?
How do BVS stents compare with other stent types with respect to safety?
Have definitive patient selection criteria been established for the use of BVS stents?
Stents are small, expandable wire-mesh tubes that are placed in the opening of narrowed arteries during percutaneous coronary intervention (PCI) to reestablish blood flow. The Absorb Bioresorbable Vascular Scaffold (BVS) is an everolimus-eluting stent with a semi-crystalline poly-L-lactide (PLLA)–based frame that is completely degraded via hydrolysis and bioresorbed within 2 to 3 years postimplantation.
Current Hayes clients can access this full report and Hayes Rating by logging into the Hayes Knowledge Center. If you are not a current client but interested in this report, you can view a summary of the report here.
ABOUT HAYES
Hayes, Inc., an internationally recognized leader in health technology research and consulting, is dedicated to the delivery of high-quality healthcare and improved outcomes through the integration of evidence into decision making and policy development. The unbiased information and comparative-effectiveness analyses we provide enable evidence-based decisions about acquiring, managing, and paying for health technologies. Our worldwide clients include hospitals, healthcare systems, government agencies, health plans, and employers.
For more information about Hayes, Inc., visit http://www.hayesinc.com. Follow us on Twitter, LinkedIn, and Facebook.