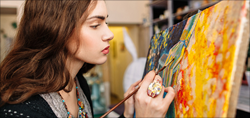 A moral ideal", Ayn Rand observed, "is almost impossible to communicate without the assistance of art.
Washington, DC (PRWEB) August 04, 2016
Art has a persuasive power like no other form of human communication. Artists project—and viewers respond to—a re-creation of reality: an imagined reality informed by our beliefs,values, and emotions.
Though Ayn Rand is revered—and reviled—as an intellectual, a writer, and a philosopher, she was, above all, an artist. Through her drama, she projected a romantic vision of a different world—a world in which heroic men and women struggled against and ultimately triumphed over immense obstacles. She used art to portray people not as they are but as they could be: to illuminate human potential, to light the path forward, and to lead the way.
Ayn Rand observed that a moral ideal is "almost impossible to communicate without the assistance of art." Today, the moral ideals of reason, achievement, and individualism are in danger of being lost, with dire consequences for a free society. Ayn Rand conveyed those ideals brilliantly in her novels, but the ideals must be renewed in every generation through the imagination and talent of artists who, like Rand, can lead the way.
"We are inviting artists, via the Atlas Art Contest, to explore Ayn Rand's world of ideas in visually arresting, engaging, and alluring new ways" said CEO Jennifer Grossman. "Painting, sculpture, cartoon, photography—entrants choose the media as they also compete for cash prizes, and in the process we'll share top entries to entice newcomers to start learning about these ideas."
CASH PRIZES
The winner will receive $5,000. The second place winner will receive $2,500. The third place winner will receive $1,000.
THE JUDGES
Michael Newberry, painter: Michael grew up on the beach in Southern California and started painting at 11 years old. Luck and grit enabled him to paint every day since. He has shown in Athens, Rome, The Hague, Manhattan, Los Angeles, Rhodes, and Santa Monica. One of his most famous collectors is designer Chan Luu.
Sabin Howard sculptor: Internationally renowned classical figurative sculptor and board member of the National Sculpture Society. He was selected as the official sculptor for the World War I Memorial in our nation's capitol. "My mission in life is to promote a more uplifting approach to art—one that highlights the heroic and inspires what is best in man," says Howard.
Agnieszka Pilat, painter: Born and raised in Poland, Agnieszka moved to the US in 2001. To pursue an artistic career, she enrolled in the Academy of Art University in San Francisco from which she recently graduated with a B.F.A. She pursues a career in fine art painting while simultaneously working on a graphic novel. Agnieszka is continuing her art education at Justin Hess Atelier in San Francisco and her work can be found in private collections in the United States and in Poland.
Judd Weiss, photographer: Judd Weiss is a professional photographer and the best-known photographer of the liberty movement. He recently ran as VP on John McAfee's high-profile presidential campaign, which made use of remarkable imagery. Weiss is a writer and serial entrepreneur who enjoys helping others discover their inner heroic achiever.
HOW TO ENTER:
Simply go to our website and follow the instructions for submitting your artwork.