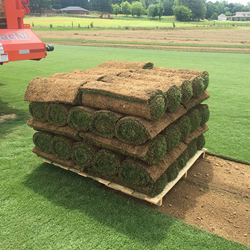 It's the next-generation product for fine-bladed Zoysia.
ATLANTA, Ga. (PRWEB) July 29, 2016
A Super-Sod product expansion enables homeowners, businesses and sports complexes in Georgia, North Carolina and South Carolina to feature Zeon Zoysia sod in their landscaping.
Due to a rising popularity and demand for the grass, Super-Sod now offers the durable and diverse sod variety. Similar to the popular Emerald Zoysia, Zeon has a fine texture and a dark green blade.
"It's the next-generation product for fine-bladed Zoysia," said Josh Morrow, area manager at Super-Sod of Atlanta. "Zeon is superior to Emerald and destined to eventually replace it."
Featured on the 2016 Olympic golf course tees, roughs and fairways, Zeon is widely adaptable to full sun or moderate shade and tolerates extreme heat and cold. This tolerance range means Zeon Zoysia sod grows well in the Southeastern states. Zeon Zoysia has a dense growth habit that not only results in a lush lawn, but resists weeds as well.
Zeon Zoysia was developed by turfgrass breeder David Doguet at Bladerunner Farms in Texas. Zeon Zoysia sod is licensed by The Turfgrass Group.
Super-Sod currently grows Zeon Zoysia sod on farms in Fort Valley, Georgia, Cartersville, Georgia, and Laurinburg, North Carolina.
Because Zeon is a warm season turfgrass, it boasts its green color during spring and summer. In addition to Zeon, Super-Sod offers Zoysia grasses in the following varieties: Emerald, Leisure Time, and Zenith.
Super-Sod, a subsidiary of Patten Seed Company, is a family-run business that employs experts in turf and horticulture. Super-Sod continuously develops new garden products; fosters gardening and landscaping; and seeks improvement in farming practices, technology, environmental stewardship and employee knowledge.
Along with turfgrass sod and seed, the company offers Soil3 organic compost, delivered in a cubic yard BigYellowBag. Soil3 is recommended for improving all soils from vegetable gardens to lawns.
Visit Supersod.com to learn more about the company and to sign up for their Monthly Lawn Tips eNewsletter.