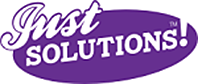 New York, NY (PRWEB) July 22, 2016
Just Solutions, a company dedicated to useful innovations in the home, fashion, food, technology, gift and general merchandise categories, is also dedicated to getting students across the board ready for the back-to-school season. As part of that preparation, easy organizational solutions will be crucial, especially when going off to college, and there is always a need for new technology and fashion accessories to kick off the school year on just the right foot!
"After recognizing the ongoing need for affordable problem solving innovations in the market, we started Just Solutions to fill the void for consumers everywhere," said David Klar, Founder of Just Solutions.

Students will never feel as prepared to return to school as they will when using Just Solutions products. Being trendy, useful and affordable are just a few of the many reasons that JustSolutionsProducts.com should be on your back-to-school shopping stop list.
About JustSolutionsProducts.com
Just Solutions is a company dedicated to the invention of useful innovations in the home, fashion, tech, gift and general merchandise industries. A dynamic player in the consumer product space, Just Solutions offers patented creative problem-solving innovations to help make everyday life easier. For more information, visit http://www.JustSolutionsProducts.com.