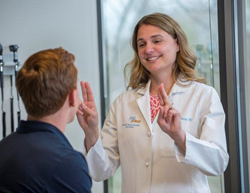 The number of athletes suffering concussions grows every year. The key to prevention and cure: proper nutrition, fluids and rest.
Morristown, NJ (PRWEB) July 22, 2016
Concussions don't take a break just because it's summer break.
According to Dr. Joelle Rehberg, a non-surgical spine specialist with Atlantic NeuroSurgical Specialists (ANS), there are many summer recreational activities including swimming and diving, bike riding and volleyball that put children and young adults at risk.
"Concussions are a year-round medical concern," Rehberg, an expert in sports medicine and the treatment of concussions – and the mother of an 11-year-old football player and a 14-year-old lacrosse player – explains. "Plus, in the summer, heat and humidity put added stress on the body. That's why it's critical to know how to avoid a concussion and what to do if one occurs during the summer months."
There are three basic factors that ward off a concussion:
•Getting plenty of rest
•Drinking lots of fluids
•Eating properly.
"While these seem straightforward, most athletes just don't get enough rest, drink enough fluids or eat properly," Rehberg, who also serves as the school physician for the Montville Township School District, continues. "Too often, we see players who skip breakfast or don't eat a good lunch and then go out on a field for practice. When the body doesn't have the fuel it needs to perform, it is weaker and more vulnerable. The better a player eats, the better he or she performs athletically as well as academically, so it's a win-win."
Hydration is equally important. When Rehberg recently spoke to a group of high school football coaches, she was surprised to learn that most don't think about hydration.
"Yet, poor hydration – like poor nutrition – weaken the body and can lead to headaches," Rehberg details. "If a player is hit and has a resultant headache, it can often be due to dehydration. Yet, often, the player is misdiagnosed with a concussion. Two weeks off for the wrong diagnosis can be devastating on many levels."
Getting any young person to sleep enough is challenging, but it's another critical component of preparing the body for play. As challenging as it is, the better rested an athlete is, the lower the risk of injury.
Rehberg offers these tips for getting athletes to eat, drink and sleep:
•Download – or have the player download – a phone app that tracks calorie intake and outflow. Use it to track how many calories have been consumed vs. expended to ensure enough calories are absorbed to offset the number burned. If there's a deficit, it's an indicator to eat more.
•Make sure the player has several drinks – particularly those rich in electrolytes – packed in the bag he or she takes to the field.
•Encourage drinking before the game, not only when thirsty. When an athlete is hot and sweaty, the body is already in a compromised state.
•Encourage healthy eating … and offer appropriate rewards.
•Pack nutrient-rich lunches and snacks, and teach the player the importance of eating something healthy before going out on the field.
•Set healthy eating examples.
"Preventing a concussion also involves making sure the athlete has the proper equipment that is in good condition and fits right," Rehberg advises. "Most helmets don't fit correctly, so be sure to find a reputable distributor or rely on a coach to ensure the right fit."
In play, Rehberg suggests athletes:
•Play smart. There's no need to be conservative, but there is a need to play smart.
•In football, tackle properly keeping the head up.
•In soccer, heading the ball is not bad when it's done with proper instruction. And, don't be overly aggressive.
•In baseball, slide into home plate, and don't collide with the catcher.
•Play hard, but play safely.
Concussions occur even when the strictest measures are taken. The most common symptoms include headache, fogginess, irritability, anxiousness, nervousness, sadness, increased sleeping, visual problems and difficulty concentration. It's important to get an accurate diagnosis, and if there is a concussion, recovery revolves around doing the same three things that prevent one.
"When there is a head injury, the most important things to do are eat, drink and rest," Rehberg concludes. "When the brain is injured, it goes into an energy crisis. Eating, drinking and resting are key to conserving energy and powering the brain's recovery."
It's also important to:
•Take it easy for a few days.
•Reduce stimuli like computers, phones, tablets and video games.
•Recognize that each child is individual and will improve at his or her own pace.
For more information on the prevention and treatment of concussions visit ans.docs.com or call 973.285.7800.