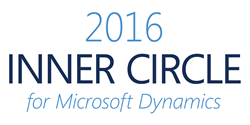 New York, NY (PRWEB) July 22, 2016
AKA Enterprise Solutions, a leading Microsoft Dynamics Consultancy has achieved the prestigious 2016 Inner Circle for Microsoft Dynamics. Membership in this elite group is based on sales achievements that rank AKA Enterprise Solutions in the top echelon of the Microsoft global network of partners. Inner Circle members have performed to a high standard of excellence by delivering valuable solutions that help organizations achieve increased success.
This recognition came during Microsoft Worldwide Partner Conference (WPC) 2016, the annual premier partner event, which took place July 10-14 in Toronto, Ontario. "Each year we recognize and honor Microsoft Dynamics partners from around the world for exemplary business performance," said Frank Holland, Corporate Vice President, Microsoft Business Solutions Sales & Partners. "These award-winning partners represent the top 1% of Microsoft Dynamics partners in terms of sales performance, but their critical impact on the success of our shared customers is what truly stands out. Microsoft is honored to recognize AKA Enterprise Solution for their achievements this past year and for their dedication and support of Microsoft Dynamics solutions." 2016 Inner Circle members are invited to the Inner Circle Summit, taking place in St. Pete Beach, Florida, in October 2016, where they will have a unique opportunity to share strategy and network with Microsoft senior leaders and fellow partners.
"This recognition follows our June business combination with Green Beacon Solutions and reflects the success and hard work of both organizations during Microsoft's fiscal year," said Alan Kahn, CEO of AKA Enterprise Solutions. "We are looking forward to even greater alignment with Microsoft and success with our clients, now that the two organizations have come together as one."
About AKA Enterprise Solutions
For over 25 years, AKA Enterprise Solutions is dedicated to the sales, consulting, service and support of Microsoft Dynamics. AKA focuses on integrating and delivering all aspects of a client's business needs specializing in Dynamics ERP, CRM, Business Intelligence, Cloud Services Business Process Consulting and Custom Application Development. AKA's experience, proven methodologies and world- class consultants ensure customer success on every level.