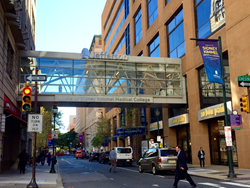 Philadelphia, PA (PRWEB) July 21, 2016
Jefferson Health has been named the official health care provider of the 2016 Democratic National Convention and the Philadelphia 2016 Host Committee for the Democratic National Convention. In this role, Jefferson will offer medical services on-site at the Wells Fargo Center, Philadelphia Convention Center, and various locations in the city of Philadelphia for official convention-associated events. Services will be provided by Jefferson Health emergency medicine physicians and JeffSTAT, its medical transportation service.
Thomas Jefferson University Hospital (TJUH) in Center City and Methodist Hospital in South Philadelphia are also centrally located to event sites. Each has a complex, long-standing emergency readiness plan in partnership with the City of Philadelphia, the Hospital Association of Pennsylvania, and health care providers throughout the region that includes appropriate protocols and support for the safety of all visitors and citizens. As the teaching hospital for Thomas Jefferson University, TJUH is recognized as a level one trauma center.
"Jefferson provides exceptional care daily to the Philadelphia region, and we are proud to extend that care as the official health care provider to the thousands who will be visiting Philadelphia," said Stephen K. Klasko, M.D., MBA, President and CEO of Thomas Jefferson University and Jefferson Health. "Jefferson will make available non-emergency care through telehealth, urgent care, and on-site services, as well as emergency and trauma care at our hospitals."
"In addition to helping Convention guests have a great time in Philadelphia during the Convention, the Host Committee wants to ensure that everyone is safe and can access the care they need," said Kevin Washo, Executive Director of the Philadelphia 2016 Host Committee. "Providing quality medical services at a number of locations throughout the city is an important component of our preparations to host the Convention, and we're grateful to Jefferson for their support in that effort."
As with any major event with a significant influx of people coming to town, access to quality care is imperative, which is why Jefferson and the Host Committee are partnering to provide medical services to additional locations throughout Philadelphia during the Democratic National Convention.
Jefferson's dedication to providing uninterrupted care will extend beyond the hospital walls. Jefferson Urgent Care has three locations throughout the city in Washington Square, Rittenhouse Square, and the Smylie Times building in Northeast Philadelphia.
In addition, a Jefferson physician is available directly through a smartphone, mobile device or computer using Jefferson's telehealth program, JeffConnect. JeffConnect allows those seeking medical attention for non-emergent issues to have a video visit with a Jefferson emergency medicine physician 24 hours a day.
To sign up for JeffConnect and begin using the On-Demand Virtual Care App, search "JeffConnect" in the app store or log on to http://www.jefferson.edu/jeffconnect.
###
About Jefferson
Jefferson, through its academic and clinical entities of Thomas Jefferson University and Jefferson Health, including Abington Health and Aria Health, is reimagining health care for the greater Philadelphia region and southern New Jersey. Jefferson has 23,000 people dedicated to providing the highest-quality, compassionate clinical care for patients, educating the health professionals of tomorrow, and discovering new treatments and therapies to define the future of care. With a university and hospital that date to 1824, today Jefferson is comprised of six colleges, eight hospitals, 24 outpatient and urgent care locations, and a multitude of physician practices throughout the region, serving more than 96,000 inpatients, 363,000 emergency patients and 1.9 million outpatient visits annually.
For more information and a complete listing of Jefferson services and locations, visit http://www.jefferson.edu.