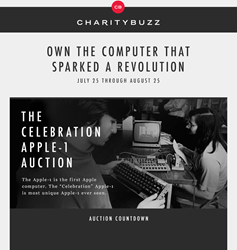 Only a few Apple-1's, on blank (not green) PC boards [were] manually soldered. -- Steve Wozniak, Co-founder Apple
New York, NY (PRWEB) July 22, 2016
On Monday, July 25, leading online charity auction platform Charitybuzz will auction the world's most unique Apple-1 computer. Dubbed the "Celebration" Apple-1 by computer historian Corey Cohen, the board was assembled by Apple co-founders Steve Wozniak and Steve Jobs at Jobs' parents' CA home in the summer of '76. Only 175 of the Steve Wozniak designed Apple-1 computers were sold by Steve Jobs and Apple, but it is believed that approximately 60 are still in existence and only one as unique as the "Celebration" Apple-1. The auction, which will take place at http://www.charitybuzz.com, from July 25 through August 25, is expected to raise up to $1mm. 10% of proceeds will benefit the Leukemia & Lymphoma Society.
The "Celebration" Apple-1 is extremely rare not only because of the scarcity of Apple-1 computers, but also because no known PCB boards of this type were ever sold to the public. At this time, this is the only known Apple-1 to show the signs of starting out as a blank "green" PC board and not part of the two known production runs. According to Steve Wozniak, Co-Founder of Apple, "Only a few Apple I's, on blank (not green) PC boards, may have been manually soldered, although I'm not sure of it. We arranged the wave soldering with the company that made the PC boards. But we may not have wanted to wave solder a run (of maybe 10 or more board) until we manually soldered one or two to debug them."
Authenticated by leading Apple expert and computer historian Corey Cohen, the "Celebration" Apple-1 has the potential to be "powered up" with minor restoration, but Cohen recommends against this to maintain the board's unique configuration. "The Apple-1 board is a not just a piece of history, but a piece of art," said Cohen.
The "Celebration" Apple-1 is an original Apple-1 ACI cassette board, pre-NTI, uniquely populated with Robinson Nugent sockets that has many other unique features. Additionally, his offering includes an original and also unique Apple-1 ACI cassette board, a period correct power supply, an early Apple-1 BASIC cassette created and uniquely hand labeled and authenticated by Daniel Kottke (the first paid Apple employee after Steve Job's sister Patty), all original manuals for the Apple-1, Apple BASIC Program, and Apple-1 ACI Cassette Board, original marketing material (two-sided advertisement on glossy magazine style paper), and schematics for the Apple-1 and Apple-1 ACI Cassette Board on archival paper. All-in-all, the most complete documentation set and provenance of all known Apple-1 boards."
"It is an honor and privilege to auction the Apple-1 Computer, a piece of American history," said Charitybuzz Chairman and CEO, Coppy Holzman. "Apple CEO Tim Cook broke fundraising records in 2013 when a coffee meeting with him went for $610,000 on Charitybuzz to support RFK Human Rights, so we anticipate this incredible Apple opportunity will generate interest from all over the world."
The "Celebration" Apple-1 will be on view at the Vintage Computer Festival West, August 6 and 7 at the Computer History Museum, Mountain View, California. For complete information, please visit apple1.charitybuzz.com. A complete Condition Summary Report will be provided to qualified buyers.
ABOUT CHARITYBUZZ
Charitybuzz raises funds for non-profits around the globe through online auctions with the world's most recognizable celebrities and brands. Featuring access to acclaimed actors and musicians, business and political leaders, sports stars, luxury travel, couture fashion, rare memorabilia and more, Charitybuzz brings its online community of bidders exclusive opportunities to live their dreams and make a difference. Since launching, Charitybuzz has raised more than $150 million for charity. Its roster of celebrity supporters includes President Clinton, Sir Paul McCartney, Tim Cook, Mick Jagger, Warren Buffet, Robert Downey Jr., Taylor Swift, Ralph Lauren, Mayor Mike Bloomberg, Barbra Streisand, Howard Stern, Chevy Chase, Billy Joel, HBO, Victoria's Secret, Justin Bieber, Lady Gaga, John Varvatos, David Yurman, Bruce Springsteen, Hugh Jackman, and Beyonce.
Charitybuzz is a member of the Charity Network. It serves as sister company to charity video content platform Chideo and charitable online sweepstakes platform Prizeo. To learn more, visit http://www.Charitybuzz.com, like us on Facebook at http://www.Facebook.com/Charitybuzz or follow us on Twitter at @Charitybuzz.
ABOUT THE LEUKEMIA & LYMPHOMA SOCIETY- ARIZONA CHAPTER
The current owner of the "Celebration" Apple-1 Computer has offered to donate 10% of the proceeds from the sale of the "Celebration" Apple-1 Computer to The Leukemia & Lymphoma Society ("LLS") in support of M. Preston Clarke's Man & Woman of the Year fundraising competition. This fundraising competition supports LLS research, patient services, advocacy, public and professional education, and community services.
Many LLS supported therapies not only help blood cancer patients, but are also now used to treat patients with rare forms of stomach and skin cancers. Clinical trials are also being conducted for patients with lung, brain, breast, pancreatic and prostate cancers to see if similar techniques may be beneficial to treating these types of cancers. Drugs funded by LLS like targeted therapies and immunotherapies are now becoming available to more individuals fighting blood cancers and in turn are saving thousands of lives every day. To learn more about The Leukemia & Lymphoma Society please visit http://www.lls.org or Man & Woman of the Year: http://www.mwoy.org/az
###