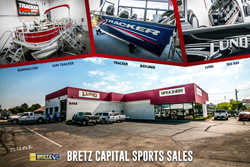 "We create and promote a boating environment where our customers will be delighted with their boats and their boating experience," - Lew Stiner
(PRWEB) August 01, 2016
Bretz RV & Marine recently acquired Lew Stiner's Capital Sports Sales located at 9900 W Fairview Ave in Boise, Idaho. The acquisition is part of Bretz RV & Marine's plan to expand boat sales throughout the state of Idaho. Renamed Bretz Capital Sports Sales, the dealership has served as one of Boise's largest boat retailers for four decades.
The dealership has been a proud provider of high quality boating brands Sea Ray and Bayliner since 1969, and added Lund aluminum fishing boats in 2004. Bretz Capital Sports Sales also carries the full line of Tracker Boats.
In addition to the abundance of marine parts, the Parts and Accessories Department carries water toys, marine trailer parts, dock lines, cleaning supplies, and more to handle all of your boating needs. The Service Department employs a team of technicians that specialize in Mercury and Mercruiser Engines and stern drives.
"We create and promote a boating environment where our customers will be delighted with their boats and their boating experience," says Lew Stiner, experienced boating fanatic.
With one of the largest indoor showroom facilities in the Treasure Valley, the dealership is strongly committed to excellent customer service and strives to provide both a professional and enjoyable experience for purchasing a boat or boating accessories. Hours are Monday through Friday 9:00am to 6:00pm, and Saturday 9:00am to 5:00pm. From May 15th through August 16th, they are open Sunday from 12:00pm to 4:00pm.
About Bretz RV & Marine:
A family tradition was born in 1962, when Frank and Vi Bretz purchased a small Aloha trailer to camp with their two young sons, Mark and Dave. Frank and Vi, who operated a service station in Missoula and rented U-Haul equipment, got several years of use out of their first RV. Early in the spring of 1967 it was time to start thinking about a newer, larger, self-contained trailer for the Bretz family. Conveniently enough, a travel trailer dealer from Helena stopped into the store and visited with them about buying trailers to offer for rent. They worked out the details and by that summer they owned a newer, bigger Aloha trailer for themselves as well as a small fleet for rentals. The following year, Frank and Vi started buying trailers factory direct for sale and rent. It wasn't long before the original gas station ran out of room for the growing trailer business. A new building was completed in 1970 near the current Missoula post office. The new facility had a complimentary RV dump station, two service bays, an indoor parts store, and one of Missoula's first self-service gas stations. Mark Bretz began managing dealership operations in 1982. The dealership continued to grow under his leadership, and it wasn't long before the gas pumps were replaced with an expanded parts department. Bretz Trailer Sales eventually outgrew the Kensington location. In 1986 the dealership moved to a huge new facility on Mullan Road that offered an enormous service department, a large parts store, and even an indoor showroom. The Mullan Road location allowed for the dealership's continued growth, and the addition of boats to the Bretz family of products. Dave Bretz returned to the dealership's sales force in 1990, and started managing it in the spring of 1995. It soon became apparent that the Mullan Road store would also one day be too small. A piece of land was purchased off North Reserve Street just below the interstate where our current location was opened in the spring of 1999. This store opened with a 15-acre lot, 12 service bays, a full dump station, and our world famous $.99 propane. Over the last 17 years, we have added an additional 14 service bays, a full body shop, approximately 20 additional acres of sales and storage space. We have also acquired and opened sister stores in Billings, MT; Portland, Oregon, and Boise, Idaho. In 2016 Bretz RV & Marine expanded the Missoula showroom by 15,000 square feet and built a brand new, state of the art dealership in Billings.
Explore and Share:
Keep updated on Bretz RV & Marine news, and join in on the fun during our summer events and promotions throughout the 2016 year.
Facebook: Like our Facebook page at http://www.facebook.com/bretzrvandmarine.
Twitter: Follow @BretzRV or hashtag #BretzRV.
Pinterest: Follow our RV, Boat, and Travel themed boards at http://www.pinterest.com/bretzrvandmarine.
Youtube: Subscribe to our Youtube channel MontanaRVDealer.
For more information on Bretz RV & Marine, please visit http://www.bretzrv.com or check out our Facebook page at http://www.facebook.com/bretzrvandmarine.