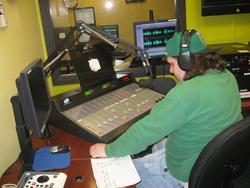 Thanks to Connecticut School of Broadcasting, Needham/Boston, I've met the most incredible people, gained confidence and hope, and I've found what I want to do in life. Things now are far from impossible!"
Boston, MA (PRWEB) July 22, 2016
Connecticut School of Broadcasting, Needham/Boston grad Timothy Syphers, is a great example of perseverance and passion. Back in 2010, as he was working as a waiter, Tim suffered significant vision loss. While he was diagnosed as legally blind, he could read large type and use adjusted computer screens. After a few tough years adapting, Tim decided to make a change. He attended a Studio Tour at the Boston Campus of Connecticut School of Broadcasting and after discussions with Director Steve Williams, it was determined that despite Timothy's challenges, he could indeed benefit from the training at Connecticut School of Broadcasting Boston towards a future career in the broadcast media.
Tim excelled in all of his training and after graduation, steered his passion for sports right into a Board Tech position at 1440am WVEI, an affiliate of Entercom Boston's sports station WEEI. Tim is in the studio during Red Sox games along with college sports and other seasonal teams in Boston. But just recently, he scored a meaningful victory in the broadcast industry. Tim launched his own Beep Baseball podcast known as "The Renegade Report". This program helps to educate people on the growing Boston Beep Baseball League in Massachusetts, which is made up of all visually impaired players. The podcast can be found at http://www.Soundcloud.com/boston-renegades.
Tim says his media training was life changing, "Things like this seemed impossible to me just a short time ago. Thanks to Connecticut School of Broadcasting, Needham/Boston, I've met the most incredible people, gained confidence and hope, and I've found what I want to do in life. Things now are far from impossible!" Always remembering his alma mater, Tim has brought in fellow Connecticut School of Broadcasting grads Kyle Bargoot, Ronnie Snyder and Kyle Carter to be a part of the production team.
The Connecticut School of Broadcasting is the Nation's largest group of Broadcast Media Schools with campus locations in CT, MA, NJ, NY, NC, GA and FL. Call 1-800-TV-Radio or http://www.gocsb.com